Thank you for being a part of the League family and for joining us at the many events and activities held during Centennial Celebration Week from October 7 – 14! All of us at the League have enjoyed meeting so many dedicated members and supporters and celebrating a century of work together during this special week.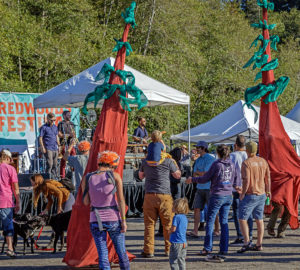 On Sunday, our Stand for the Redwoods Festival in Humboldt County brought together our partners and redwood fans alike to kick off our celebration week at the southern gateway to the world's tallest forest in Redwood National and State Parks. Visit our photo album here. (external link)
On Monday, we launched live digital field trips to Calaveras Big Trees State Park with the California State Parks interpretive team. These distance learning adventures are part of the Parks Online Resources for Teachers & Students (PORTS) program, designed for K-12 students. Classrooms from all over the world joined us to learn about the science and nature of our giant sequoia forests throughout the week, and this study unit will be offered upon request until June 2019!
On Tuesday, the premiere of Old Survivor, a documentary about the last remaining old-growth redwood tree still standing in the hills of the East Bay, was an inspiration for the 750 people in attendance at the Chabot Space & Science Center in Oakland, California. The film is a terrific story with many heroes, from the nonprofit partners and public agencies that steward our parks to the redwoods themselves. See photos from the event and learn more about how you can see the Old Survivor documentary. (external links)
On Wednesday, the Centennial Celebration Member Event at the Natural History Museum of Los Angeles County was an energetic and lively evening with our closest supporters in Southern California. Many members shared their fond memories of the redwood forest and we, in turn, shared our appreciation for their ongoing and dedicated support.
On Thursday, the Stand for the Redwoods, Reach for the Stars event hosted adventurous stargazers to look up into the night's sky from one of the best viewing sites in the Sierra Nevada, Calaveras Big Trees State Park. Visit our photo album here. (external link)
On Saturday, our Free Second Saturdays in the Redwood Parks: Birthday Edition welcomed more than 4,000 visitors to 100 parks in 15 counties throughout the coast redwood and giant sequoia ranges. (There are two more chances to celebrate with us on our Free Second Saturdays: November 10 and December 8, 2018. Download your free day-use passes two weeks before each event on FreeRedwoodsDays.org and sign up for our mailing list to know when passes are available.)
That evening, our Centennial Celebration Gala brought 730 patrons together to celebrate 100 years of redwoods conservation, raising nearly $2 million in support of the League's education and parks support programs, which will serve 18,000 students this year and millions of park visitors with improved access and amenities within our redwood parks. We transformed San Francisco's Union Square into an enchanting, elegant redwood forest, and Mickey Hart, Bob Weir, and friends with special guest John Mayer played an unforgettable benefit performance. See our photos from our first-ever Gala. (external link)
On Sunday, the League sponsored The Humboldt Redwoods Marathon, Half Marathon, and 5K. Over 500 runners competed under the towering old-growth redwoods of Humboldt Redwoods State Park—groves that Save the Redwoods League helped to protect decades ago. Visit our photo album here. (external link)
Later in the day, the Stand for the Redwoods Festival in San Francisco at Yerba Buena Gardens, a family-friendly event enjoyed by more than 3,000 redwood fans, concluded the week-long celebration. See photos from the event. (external link)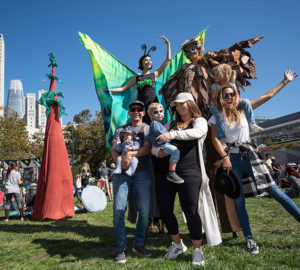 Our Centennial Celebration Week was about more than looking back and admiring our 100-year legacy to save our iconic redwood forests. It was also about building hope and momentum for a new era of conservation leadership. Because we know of the extraordinary and global importance of these forests, we cannot be satisfied to consider our protected redwood parks as museum exhibits of what the forest used to be. These spectacular groves are not just windows into our past, but doorways into our future.
We envision vibrant redwood forests of the scale and grandeur that once graced the California coast and the Sierra Nevada, protected forever, restored to grow old again, and connected to people through a network of magnificent parks and protected areas that inspire all of us with the beauty and power of nature.
Thank you for celebrating 100 years of redwood forest conservation, and for supporting our vision for the next century.