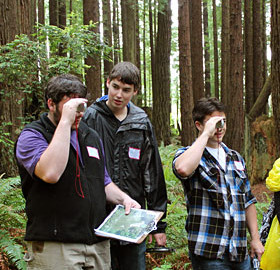 Redwoods are Humboldt County's greatest treasure. They also happen to be an awesome teaching tool. Yet many of the area's young people know little about redwoods and forest stewardship careers.
Thanks to your support, which enabled Save the Redwoods League to provide an education grant to our partner, The Forest Foundation, the next generation of forest caretakers is taking root. Over two days, the Auburn-based foundation took 65 high school students from Humboldt County–area schools on a learning adventure called "Map It, Manage It, Sustain It."
Students learned from foresters in Arcata Community Forest how GPS units use satellite signals to record locations of forest features. From there, the kids learned to use a dichotomous key to identify tree species.
Students witnessed how foresters balance social, environmental and economic components of forest conservation. For example, wildlife biologists taught them how to identify animals living in the forest, and how to use a compass to plot a northern spotted owl nest on a map so that the area won't be disturbed.
In a Humboldt State University lab, students saw how their GPS waypoints could be used to map the forest to determine important wildlife habitat, areas for recreation, stands that could be thinned and which parts might need trail repairs," said Shaney Emerson, Education Director for The Forest Foundation.
Barry Tucker, the father of Fortuna High School student Shelby, said his daughter came home excited by the experience. "This event put options in front of students when they may have needed some direction," he said.