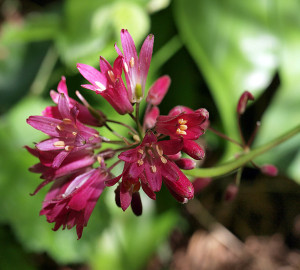 After taking a plant identification class a few weeks ago, I've become obsessed with identifying everything I see while hiking in the redwood forest. And although I have walked through many forests, I still see plants that are new to me, which is exciting and provides me with fun challenges.
While in the Santa Cruz Mountains recently, some beautiful red flowers caught my eye among the redwood sorrel covering the forest floor. After a closer examination I could tell the plant was in the lily family, with its basal, shiny leaves and its flower structure, but I didn't know the species. I enjoyed the rest of my hike admiring this beautiful plant, but with the unsatisfied feeling of really wanting to know what it was. Once I was back in the land of the internet I soon discovered that it was red clintonia!
This common redwood forest plant, also known as Andrew's clintonia, is found almost exclusively in California and hugs the coast just like the redwoods. They like to be by streams where they have moist soils to grow in. It blooms from February to May and produces these gorgeous pink to reddish-purple flowers on a stalk that can be up to 2 feet tall. In the fall when the fruits form, they are bright blue and loved by deer.
Now I can add one more plant to my reservoir of redwood forest knowledge and will be looking forward to seeing the clintonia's bright blue fruits in the fall.
Next time you are among the redwoods, look around and see what's new that the forest has to show you. I guarantee you will discover at least one new thing every time you are out there!
For more on plant identification in the redwoods, check out my last blog.