California takes another step to incorporating natural lands into climate strategy
It wasn't until our Save the Redwoods League team started scaling the canyon slope that they really understood the impact of the fire in this section of the Santa Cruz Mountains. While the redwoods were still living—charred, but strong—the shrubs and many of the Douglas-firs that once crowded the hill were decimated. Scattered black skeletons and roots, limbs reduced to the soft gray ash underfoot and black smoke blown away weeks ago.
When they finally reached a high spot, it was easier to comprehend the extent of the burning of the CZU August Lightning Complex Fire in these forests. Scorched trees and landscape as far as the eye could see. Those redwoods will start recovering from this fire damage almost immediately, resprouting needles from blackened bark and getting back to the work of sequestering carbon in their fire-resilient heartwood.  And while elements of the forest will take years to get back to what it once was, bits of fern and sorrel and new growth were already popping up here and there. 
As vast as that tableau was, this wasn't close to the largest fire to hit California this season. That goes to Northern California's August Complex Fire that has now burned a record-breaking 1 million acres and rising. In all, more than 4 million acres have burned in California this season, shattering records for a single fire season.
One of the unnerving qualities of 2020 is the way this strange year has distorted time. It seems like forever ago that headlines around the world were screaming about the fires in the Amazon, but it has only been about a year. Recall that the biggest danger of those fires, according to experts, was the lost carbon storage of millions of acres of forest.
Letting those fires burn, activists cried, amounted to malpractice in our stewardship of the Earth.
Now our attention is on fires more recent and closer to home. The loss of life and property has been devastating, and we owe so much to our heroic firefighters and first responders. But even with many fires still burning, Gov. Gavin Newsom is rightly taking the long view and calling for a renewed investment in natural and working lands as a key element of California's strategy for fighting climate change.
According to a 2018 report commissioned by the California Air Resources Board, about 5,340 million metric tons of ecosystem carbon are stored in California's natural and working lands (farms, ranches, etc.), of which forest and shrubland contain the vast majority. For context, it would take about 256 years for California's 14 million passenger cars to generate this much carbon in the form of carbon dioxide.
The fires of 2020 have only reinforced the potential value of our forests in the fight against climate change, and also revealed where we are falling short. Researchers estimate that, through mid-September, the fires in California burned enough forest to put about 90 million metric tons of carbon dioxide, a key greenhouse gas, into the air. For perspective, that's about 30 million tons more than the total CO2 emissions in California from energy production.
California far and away leads the country in aggressive policies to address the climate threat. We've set ambitious goals for renewable energy, created a groundbreaking cap-and-trade system to incentivize greenhouse gas reduction, and passed numerous policies to reduce air pollution. And yet even as we advance carbon solutions,  the massive release of carbon that came as a result of these wildfires only steepens the climb.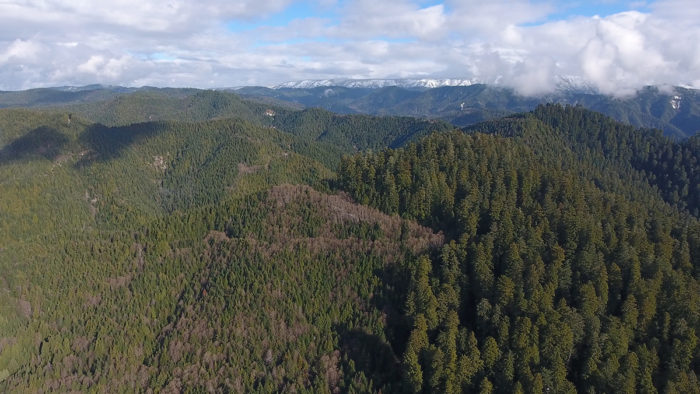 We know what needs to be done to reduce the destructive nature of fires, and Newsom's executive order demonstrates that there is the political will to do something about it. Many of the strategies identified in the governor's executive order have been identified in the state's climate plan for years, but the order emphasizes a clear reality that we must accept now: Wildfire policy is forest policy is climate policy.
The executive order embraces the importance of land conservation to slow deforestation, subdivision, and development in California's forests. The order will hopefully drive funding for a new partnership between the State of California and the U.S. Forest Service to conduct restoration and fire mitigation on half a million acres of forests per year. Such an initiative could also spur the creation of up to 50,000 new green jobs at a time when this kind of economic stimulus is greatly needed.
Redwoods are a big piece of the puzzle. Scientists studying redwoods' carbon storage as part of the Redwoods and Climate Change Initiative (a collaborative research program of Humboldt State University, the University of Washington, and Save the Redwoods League) have found that old-growth coast redwood forests store more carbon per acre than any other type of forest in the world. Forests of giant sequoia, coast redwoods' closest relative, come in second. Old-growth coast redwood forests pack as much as 982 tons of carbon per acre—equal to the greenhouse gases produced by driving 8.1 million passenger vehicle miles.
More importantly, recovering second-growth forests are storing massive amounts of carbon well before they reach old-growth status. The healthiest second-growth redwood forest recorded is storing 374 tons of carbon in one acre, recovering about a third the amount of carbon as old-growth forest in just 150 years—and is on its way to storing much more.
Stories about the loss of the Amazon forest should prompt reflection here in California. One hundred and fifty years ago, we had our own Amazon in the form of 2.2 million acres of glorious old-growth coast redwood forests. But we lost all but 5 percent of that to logging. We do have 1.5 million acres of second-growth forests that, with proper care, can regain the glory and resilience of their grandparents. That vast landscape of young redwood trees, growing up from the ancient roots of a forest millions of years old, is a restoration opportunity of extraordinary scale and importance.
Save the Redwoods League is already pursuing this vision on properties we have acquired throughout the ranges. And in perhaps the most ambitious restoration project in the redwood forests, we have partnered  with California State Parks and the National Park Service to restore a vast expanse of second-growth redwood forest in the Lower Prairie Creek and nearby Mill Creek watersheds. Across tens of thousands of acres of young forests clear-cut before being added to the parks, Redwoods Rising will heal the old growth of the future  and reconnect 40,000 remaining acres of old-growth redwood forests in Redwood National and State Parks.
California's young redwood forests, with the state's other natural and working lands, can be at the center of California's climate strategy. By restoring these forests, we can reduce the chance of future out-of-control conflagrations while storing more and more of the carbon that is driving many of the environmental challenges we face. While the fire damage to these forests, particularly the giant sequoia groves, was unlike anything we have seen in recent memory, we are all now keenly aware of our new reality and have bolstered our resolve to invest in restoring the natural function of these landscapes. 
As we shift from assessing the damage of the recent fires to investing in resilient solutions to the impacts of a changing climate, we need to look at California's forests—particularly our redwood forests—as sources of resilience and solutions, not victims. We rely on these places for inspiration, recreation, and peace of mind. But in these challenging times, their role seems even more foundational. These forests are at the bow wave of our opportunity to restore the natural balance of our landscape, of our effort to reset our climate future and regain our footing as one of the world's leading economies.