"I could never resist the call of the trail" – Buffalo Bill
I can think of no wilder adventure than spending a week exploring the Yosemite backcountry with three teenage boys.
With my oldest son heading into his final year of high school, I decided to go all out this summer in search of a truly epic, life-changing, never-to-forget experience that my sons and I could share. They have been growing up and changing so fast — each phase more exciting and amazing than the last — and I wanted this summer to be one we would remember together long into their adulthood.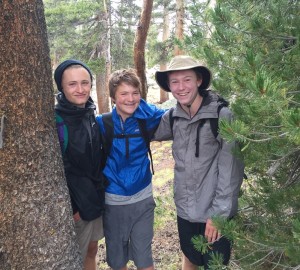 Thanks to some good luck (and a little help from a great friend), I managed to secure seven nights in the legendary High Sierra Camps of Yosemite National Park. So, my three oldest sons and I set out to the birthplace of conservation, the wilderness of Yosemite National Park, and hit the trail.
This kind of trip would not always have been my ideal. In the past, I have had a bit of a chip on my shoulder about what it means to spend time in the mountains. As a teenager building trails in New Hampshire, we would sleep on the rocks right outside a backcountry hut rather than admit to being soft enough to need a bed and a roof. We would carry pounds and pounds of food and gear, plan out every meal, assign the tasks of preparing, cooking and cleaning, and wake from a night under the stars to start all over again. To me, that was always part of what braving the wilderness was about.
My kids heard a lot about my love of the backcountry and the "truest" way to experience the woods. But our memories together are limited to car camping trips and day hikes into the wilderness and out again. As much as I have aspired for years to share experiences in the wild with my boys, our lives are just too busy to plan and execute a "real" family backpacking trip. My gear is all old and broken. I'm not as familiar with the Western landscape as I was in the mountains of my childhood. The process of mapping the journey, finding places to camp, and having the right gear was daunting enough that we just put it off. I needed help to get back in the game.
So this gift of a trip to the Yosemite camps was perfect: we hiked from camp to camp with our clothes and minimal gear, and we were treated to the luxury of beds and meals when we got there. While I am reluctant to admit it, taking out all the work — of pitching a tent, cooking three meals over a tiny tippy stove, and planning a whole family's worth of food and gear — was what it took to get us into the wilderness. And it was an experience I will never forget.
The best part is that my boys had such a fantastic time that they want to go back and explore farther afield; beyond the range of the tent platforms and prepared meals. They got a taste of the high country and want to have a little more independence next time. The Sierra landscape will reward their efforts a thousandfold with breathtaking vistas and a unique sense of fulfillment. But I learned that there's nothing wrong with starting out on the easy route, too. Removing the elements of intense planning and heavy packs made exploring the backcountry possible for my family, and every step of the way was fun. We'd stay a day or two at each camp, and set out on light feet to explore the surrounding area with just our day packs. We had whole glorious days free to hike and swim when and where we pleased.
This trip was a special treat, and we probably won't have that kind of opportunity again. But there are plenty of ways to take some of the hassle out of outdoors experiences, and now that I have broken the ice and drawn the ire of my former self, I hereby grant you permission to just make things easy on yourself once in a while — especially if you're trying to introduce wary young ones to the outdoors. For starters, the Family Guide to the Coast Redwoods and Giant Sequoias are great resources for making visits to the redwoods easy and fun.
Follow me on Twitter @SamH4Redwoods for tweets about trees, trails and other truths.