On a recent trip to visit some of the amazing redwood parks in Mendocino County, I happened upon a type of forest I had never seen before. A forest where pines, cypress and redwood trees are a mere fraction of the height they would be in a normal forest. Trees that could be hundreds of years old are only 10 feet tall. This is a pygmy forest. These unique forests not only leave you in a state of wonderment but also tell a story of the geologic history of the area.
These forests, which can be found in various places throughout the world, are "ecological staircases" hundreds of thousands of years old. Picture a staircase coming out of the ocean. The marine layers have over time been uplifted and eroded away as they move onshore. Each stair or terrace is approximately 100,000 years older than the one below it. The soil of some of these terraces can be hard, dense and clay-like, causing poor drainage and limited root mobility. These trees end up sitting in their own tannins and acids for part of the year, resulting in nutrient poor soils. This combination of poor soil and limited drainage and root movement result in trees with stunted growth. The trees appear as if they are only a few years old, but if you were to look at their tree rings, you would see hundreds! These unique pygmy forests grow along the California coast and are a must-see on your next redwood forest adventure.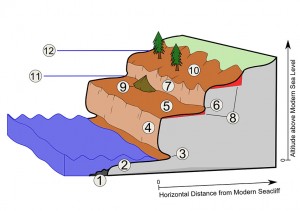 In Mendocino County, visit Jug Handle State Reserve or Van Damme State Park to see a pygmy forest.
You can also see a pygmy forest in Sonoma County at Salt Point State Park.
When you visit the pygmy forests, take a picture of a small redwood and post it on our Facebook page.