Prairie Creek Redwoods SP celebrates 100 years as a redwoods icon
A century may be no big deal to a 2,000-year-old redwood tree. But for us humans, a 100-year anniversary calls for one heck of a party. On August 26th, Save the Redwoods League staff joined more than a thousand fellow redwoods fans for a centennial celebration at Prairie Creek Redwoods State Park. The park's 100th birthday party featured a variety of activities, including ranger-guided walks, face-painting, dunk tanks, food trucks, and of course the famed "BioBlitz" dance, led by naturalist Griff Griffin. Special programs offered throughout the day included an accessibility walk through the forest with David's Chair, a Spanish bilingual walk, historic visitor center tours, and trolley tours on the Newton B. Drury Scenic Parkway.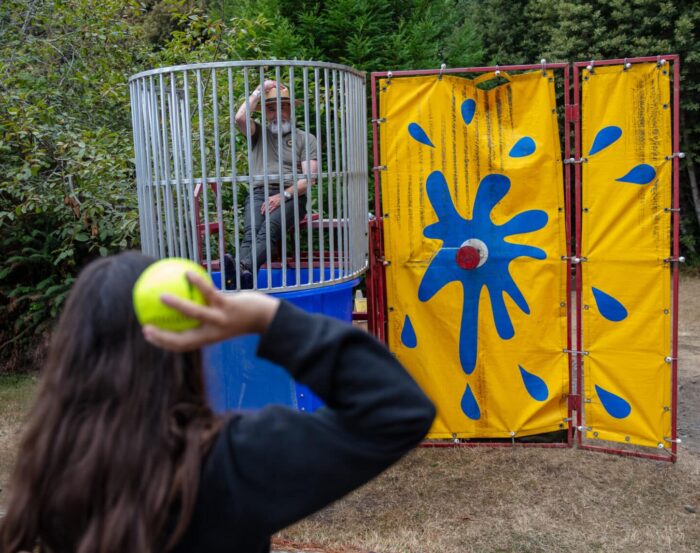 A star (park) is born
One hundred years ago, Save the Redwoods League played a key role in securing an initial land donation of 160 acres from Zipporah Russ, a local businesswoman and community leader in Humboldt County. With this single gift, Prairie Creek Redwoods got its start.
This was way back in 1923, before there was even an official California State Parks system. It was the need to protect and steward incredible places like Prairie Creek that inspired the formation of California State Parks in 1927. Five years later, the League helped secure more than 4,000 additional acres for Prairie Creek—an expansion  that really put the park on the map as a world-class redwoods destination. The League has since contributed more than 16,000 acres to the state park for permanent protection and public enjoyment.
Today, Prairie Creek Redwoods is one of the most popular destinations within Redwood National and State Parks, home to old-growth giants along James Irvine Trail, the lush wonderland of Fern Canyon, impressive herds of Roosevelt elk, and the crashing waves of Gold Bluff Beach. The birthday bash may have come and gone, but there is still so much more to celebrate.