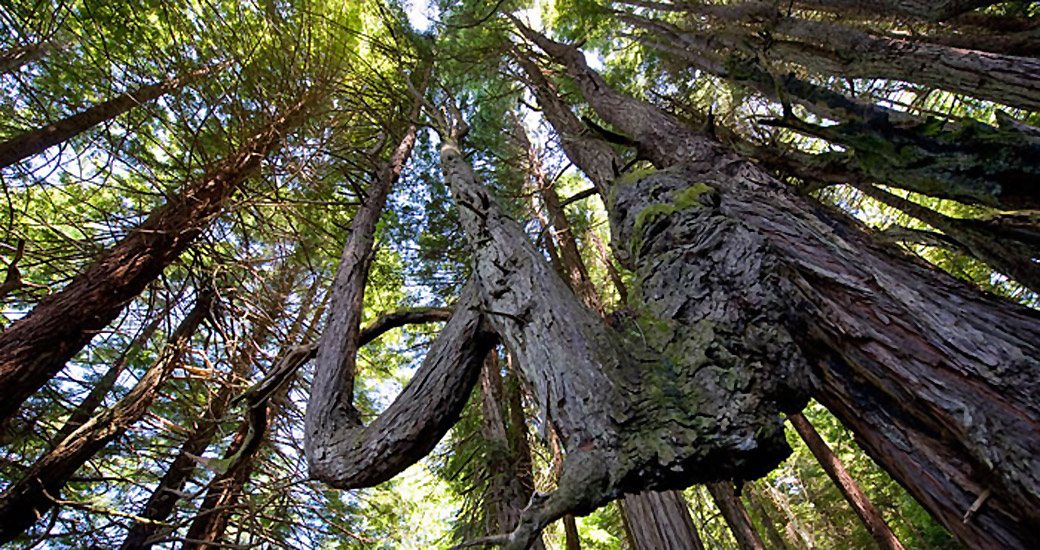 After a winding 35-mile drive north of Fort Bragg on Northern California's remote craggy coast, you reach a hidden road. Beyond it, shrouded in fog, beckons a magical redwood forest fit for the set of a fantasy movie. Sword ferns, moss and lichens blanket the forest in green. Delicate orchids and trillium accent the duff. The silence is so profound it's as if the forest is holding its hands over your ears.
For more than 100 years, Shady Dell was a private, hidden treasure, but in 2011 Save the Redwoods League purchased the 957-acre property and began planning its protection and restoration. In 2016, with the help of a number of partners, we opened the Peter Douglas Coastal Trail, giving the public an opportunity to experience this special place firsthand.
Our restoration work there continues. Logging in the 1800s, 1950s and 1980s damaged this landscape. Before logging, this land embraced giant redwoods, clear streams and diverse, native plants and animals, including now-imperiled salmon, northern spotted owls and birds called marbled murrelets. These animals depend on ancient forest habitat. We're working hard to get this forest back to what it once was.
Read more about Shady Dell at the links below.
---
---
For media inquiries, contact Robin Carr at (415) 971-3991 or
redwoods@landispr.com
.
To access hi-res images, broll or drone footage of Shady Dell, please visit our
media resources page
.
---
Tags: candelabra trees, coast redwoods, current, Enchanted Forest, forest restoration, lost coast, Lost Coast Trail, Mendocino County, old growth redwoods, Restoration Project, Shady Dell