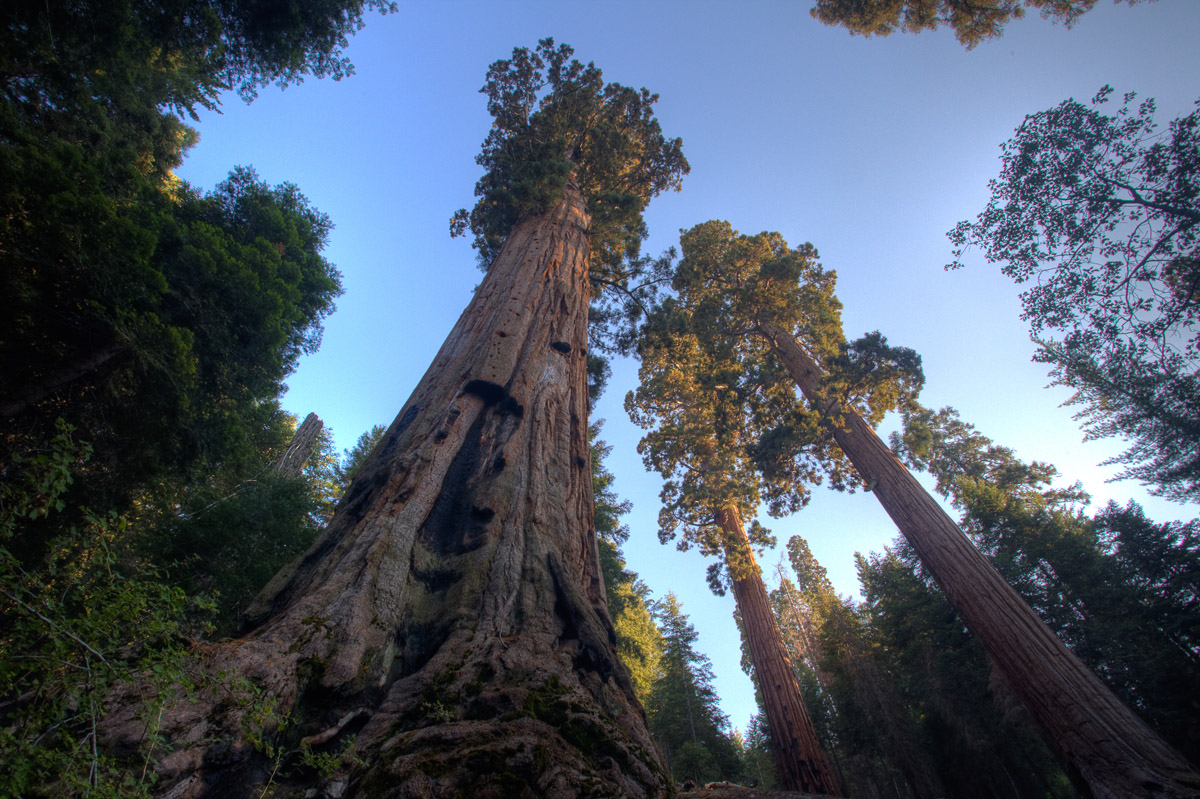 Gifts from League members like you recently helped protect a dramatically beautiful gateway to an extraordinary kingdom of ancient giant sequoias on Case Mountain. Save the Redwoods League and partners have purchased and transferred a part of this gateway called Craig Ranch to the Bureau of Land Management.
The 66-acre property southeast of Three Rivers was initially purchased for $300,000 from private owners for conservation by the League with assistance from Sequoia Riverlands Trust (SRT). Craig Ranch will protect wildlife habitat and flowing creeks and streams, and greatly improve access to public lands at adjoining Case Mountain in the Sierra Nevada range.
Case Mountain, an Environmental Treasure
The Case Mountain giant sequoia grove is home to 101 giant sequoias that range in size from 3 to 16 feet in diameter, as well as rare plants and animals. These natural treasures have earned this place special designation from the Bureau of Land Management (BLM) as an Area of Critical Environmental Concern (ACEC). The BLM intends to add the land to its adjoining Kaweah ACEC, a popular destination for the local community. On Case Mountain, which is part of the surrounding 18,530-acre ACEC, the towering stands of ancient giant sequoias have long beckoned, but have been difficult to access. Now, thanks to the addition of Craig Ranch to the ACEC, hikers, mountain bikers, anglers, equestrians and others will have an easier time reaching the Case Mountain giant sequoias by way of the dirt Salt Creek Road; it's a 10-mile trip on the road from California State Highway 198 to the mountaintop. Along the way, visitors will be able to experience Craig Ranch and rich habitat for rare plants and animals such as the Kaweah brodiaea, sequoia gooseberry, spotted owls and Pacific fishers. Other scenic highlights include a seasonal waterfall and Salt Creek threading between rolling hills, majestic blue oaks and peaceful meadows.
The BLM plans to develop a parking and staging area at the ranch, alleviating existing parking problems and enhancing visitors' experiences.
"The Case Mountain Area of Critical Environmental Concern contains a variety of habitats that are valuable for their natural beauty, history and uniqueness as part of a connected, rich living system," said Dale Lincoln, a major donor to the Craig Ranch project through the League and SRT. "The top of the mountain gives life to six sequoia groves, and the snows at their base feed Salt Creek and its springs, which provide water to life far below."
Seizing the Opportunity
Sam Hodder, Save the Redwoods League President and CEO, said Craig Ranch presents an incredible opportunity to enhance conservation and outdoor recreation on surrounding public lands.
"It's intensely gratifying to connect people with this magnificent area and see Case Mountain's giant sequoias within their reach at last," Hodder said. "These trees are natural wonders that astonish and inspire. They're also vital habitat for other rare plants and animals, and home to precious sources of water. Together with our project partners, we're pleased to help improve the visitor experience here through permanent protection and donation of this strategically located property. This is a special place that will enrich the lives of all who venture and explore here."
Save the Redwoods League, Sequoia Riverlands Trust, Ollie Craig Trust, and BLM had been discussing the Craig Ranch purchase for more than a decade.
"SRT's role was a catalytic one in conserving this magnificent Craig Ranch land," said Hilary Dustin, SRT Conservation Director. "We conceived and shepherded this project over many years, bringing the various parties together. But we could not have done so without the vision and determination of Dale Lincoln, who is among our most ardent donors and the primary funder of SRT's efforts on a project from which SRT does not benefit financially," Dustin added.
Soapy Mulholland, SRT's Executive Director, said her organization worked with Ollie Craig, her trustees and local neighbors, and especially Lincoln, for 13 years to conserve this beautiful ranch with its perfect connection to Case Mountain.
"Resources are scarce with which to conserve new lands, so we are doubly appreciative of the generosity of Save the Redwoods League, which made this happen, and we're delighted," Mulholland said
BLM's Bakersfield Field Manager Gabe Garcia said, "This action has been years in the making and we want to thank our partners who made it possible. With this donation, we will be about to provide recreational users a better overall experience and give the public the opportunity to see unique public land."
You Can Help
You can get updates on Craig Ranch and our other projects by signing up for our free newsletter, delivered every month.
You also can help protect more redwood land like Craig Ranch: Your generous support gives the League the financial resources it needs to operate in a complex and fast-paced real estate market, and it enables us to buy, hold, restore and transfer properties to the public. Please donate today.
---
Tags: conservation, current, Land Project, Protect, public land access, Redwood protection