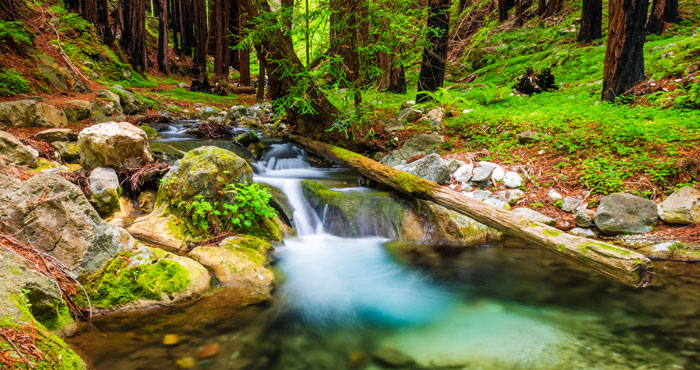 You have more amenities to enjoy at two breathtaking redwood state parks in Big Sur, thanks to support from League donors like you. Save the Redwoods League helped replace a failing footbridge at Limekiln State Park, and is continuing trail improvements at Pfeiffer Big Sur State Park.
These projects and others build on our founders' dream of protecting and enhancing redwood parks. Save the Redwoods League is engaged in a wide range of activities — from saving threatened redwood landscapes and restoring forests, to upgrading park amenities, expanding education and interpretative programs, and finding new ways to benefit parks and visitors. We continue to work with California State Parks, the National Park Service, the Bureau of Land Management and other close partners on projects to sustain and improve our park systems. Together we are making these incredible places more accessible for our own changing times and for the future.
Limekiln Bridge Reconnects Scenic Landscapes
At Limekiln, on the mountainous Big Sur coastline overlooking the panoramic Pacific, you'll find redwoods lining Hare Creek in exquisitely beautiful landscapes. Limekiln Creek plummets 100 feet over Limekiln Falls. Rare California condors soar above. Sea otters frolic offshore and bobcats, deer, foxes and ringtails roam the redwood forest. Limekiln is home to the southernmost old-growth redwood grove in California. It's also remarkable because northern and southern California species live together here; you can't find both yucca and coast redwoods in very many parks.
These inspiring and precious natural resources are the reasons that Save the Redwoods League and California State Parks partnered to protect and open the 711-acre park in 1995.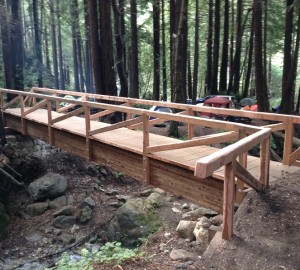 In July 2015, a rotting wooden bridge connecting the camping area to all of the park's trails was closed because it was at risk of collapsing. When California State Parks couldn't fix the bridge because of budget constraints, Save the Redwoods League stepped in, contributing $38,700 to help rebuild the span, with State Parks covering the $119,000 remainder.
The new bridge serves the nearly 16,000 annual visitors who enjoy the park's 27 campsites and 3.4 miles of trail. The span also protects plants and animals in and along Hare Creek from people who had been walking across in the streambed when the bridge was closed.
"We're thrilled to have helped replace this bridge so that visitors can continue to enjoy the breathtaking sights of Limekiln State Park," said Paul Ringgold, Chief Program Officer at Save the Redwoods League. "It's always been part of our mission to help people experience the redwood forest. With projects like this bridge construction, we will fulfill our mission by delivering an excellent park experience to all who visit these redwoods."
John Hiles, Monterey District Maintenance Chief for California State Parks added, "This truly was a great partnership project that will hopefully be replicated in the future. I really do appreciate the League's support."
Limekiln's dramatic beauty makes the park a favorite among many visitors.
"What a surreal and wonderful place," said Michael S. of Oxnard, California. "It's one of the few places in the world where you can walk in a grove of redwoods, visit a beautiful waterfall, explore abandoned kilns from the late 1800s then walk to a secluded beach."
Photographer Mick G. of Bakersfield, California, said his Limekiln visit was "absolutely one of the most amazing experiences ever! I will be back hundreds of times more."
Plan your trip to Limekiln State Park.
Trail Work Progresses at Pfeiffer Big Sur
The Pfeiffer Falls Trail was the most popular footpath in Pfeiffer Big Sur State Park. Visitors loved the climb through the redwood canyon to see the falls' white ribbons of water streaming from 60 feet above. But in 2008, a wildfire destroyed the trail, burning its bridges, railings, steps, signs and retaining walls, cutting off hikers from the waterfall. Budget limits prevented State Parks from rebuilding the trail.
Beginning in 2010, our members' support helped make improvements to a half-mile stretch of the Valley View Trail to the falls to accommodate the increased use. The 2-mile Valley View route leads from Big Sur Lodge to Pfeiffer Falls, and returns by way of Valley View Trail. The route, with its 200-foot elevation gain, winds past towering redwoods, a diverse array of other trees and ecosystems, Pfeiffer Falls, and views of the ocean at the Point Sur headlands. Visit during winter and spring to see the best flows at the falls. Visitor Summer P. of San Jose reflected on the trails. "The Valley View Trail and Pfeiffer Falls trail were both easy and shaded pretty much the whole time," she said. "The Valley View trail is breathtaking and a great place to take your scenery pic!"
Our members' gifts have supported the planning and rebuilding of the rest of the Pfeiffer Falls Trail, as well as erosion control and planting of native species.
In fall 2015, California Conservation Corps crews and contractors removed part of the old Pfeiffer Falls Trail's concrete and constructed a beautiful, small dirt section of trail. "It's a huge transformation, and this is just the beginning!" said Jessica Neff, League Land Project and Stewardship Manager.
In April 2016, the League installed an interpretive panel explaining redwood forest plants, animals and tree rings and welcoming visitors to the Pfeiffer Falls Trail.
Restoration of the entire trail is expected to be complete by fall 2017 if the League's $1.08 million funding goal is reached. So far, we've raised $461,000.
You Can Make a Difference
Pfeiffer Big Sur state park was created in 1933. Over the years, League members helped acquire nearby redwood land. These 300 acres are now part of the park, protected forever inside its expanded borders. Our opportunity now is to faithfully look after the redwoods we protected, not just in Pfeiffer Big Sur, but across the redwood range in all of our cherished redwood parks and places. We must continue to nurture the redwood experience that forever changes all who visit.
It's always been part of the League's mission to help people experience the redwood forest. With projects including these, we will make sure all who visit will be transformed by the magical experience of the redwoods.
Please help support these special places and connect more people to the beauty of the redwoods. Donate today.
Plan your trip to Pfeiffer Big Sur State Park.
---