Student Perspectives: This blog series was written by San Francisco State University students for the Recreational Use of Parks and Protected Areas course taught by Dr. Nina Roberts in Fall 2015. The goal of Dr. Roberts' blog assignment was to show how student support of redwood parks can create new ways to foster equal access to nature by diverse communities. For this assignment, each student visited a local redwood park and wrote about their experience. Enjoy!
---
4 Reasons to Visit Joaquin Miller Park
by Lisse Lundin
Just a couple of minutes from the city is Joaquin Miller Park. Tucked into the Oakland Hills, this park boasts 500 acres of lush land filled with coast redwoods. While it can be overlooked in comparison to its neighbor, Redwood Regional Park, it is a spot worth making time for. The proximity to nearby neighborhoods and communities makes this a popular urban park, so arrive early if you are seeking solitude amongst the trees.
Joaquin Miller Park is only a 30-minute drive from San Francisco, with access also provided by AC Transit route 39. I arrived at the park midday on a rainy and cold Wednesday. At first it was quiet and isolated from the main road outside the park, but once I found myself on one of the park's many trails, I was met by people of all ages enjoying what the park had to offer.
These acres of open land in the Bay Area's backyard are something that should be discovered and used by all. This redwoods park can be an easy place to retreat to, even on a weekday, due to its proximity to residential areas. If you want a new space to escape the city, even if just for a few hours, this is it.
Here are four reasons you need to visit Joaquin Miller Park: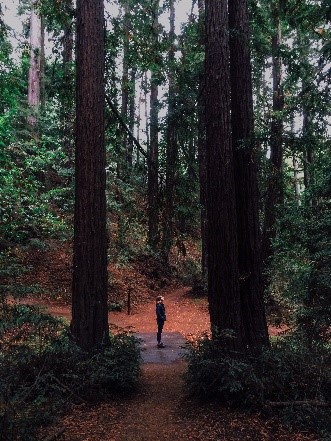 1. Trails
If you seek trails that will get your heart rate up, the Cinderella Trail is for you. Get ready for some elevation gain of 600 feet. If a stroll through the park is more your pace, opt for the leisurely and scenic route of the Sunset Trail. This main trail links up with multiple others that weave their way through redwoods and fern-covered creeks. The other connecting trails give panoramic views of Oakland and the Bay Area, which are rewarding after hiking out from the base of redwood groves. Looking for new trails to ride your mountain bike? Joaquin Miller is for you. Hikers, dog walkers, and bikers are known for sharing the trails here.
2. Dogs
Finding open spaces that allow your furry friend to tag along can be difficult while living in urban areas. If you are not a dog owner, don't fret. A happy surprise I found was that all the trails were free of traces of dogs and litter, likely because of accessible trashcans in the park. I came across several people walking their dogs here. All dogs must be leashed on trails, but the fenced-in Joaquin Miller Dog Park is available too. Stop by the dog park on your way out to let your dog run wild before making the trip back home. If you're an equestrian, the park offers horseback riding at their Sequoia horse area.
3. Trees
The coast redwoods are one of the biggest attractions in the park. According to the park, it has some of the oldest surviving redwood trees in the area. Most of the Bay Area's redwoods were cut down during the Gold Rush. However, this park protects tall second-growth trees that sprouted up during that era. I came across a group of young children in their raincoats, looking in awe up at the trees, while listening to a parent teach them about the redwoods in the park's main meadow. Summer camp trips are great for educating kids who live in the surrounding urban areas about the redwoods, without traveling too far from home. While the park does not have campsites, the Great American Backyard Campout takes place here in June. Families can partake in group hikes to stargaze at night and share stories around the campfire. To attend costs $10 per family, paid online. Camping and bonding in the redwoods with other tree-loving locals is an event you won't want to miss.
4. Event Space
This park is not just trees and trails. If you want to experience the beauty of the area without necessarily participating in outdoor recreation, there are plenty of other options. Scattered throughout the park are picnic areas that can accommodate hundreds of people in total. Hosting family reunions or birthday parties here would be a great idea if you desire an outdoor location. The park also has a Community Center that overlooks the Bay Area, waterfalls with adjacent stairways, and the Woodminster Amphitheater. The amphitheater has been known to hold concerts and plays, having seating for up to 2,000 people. To hear about upcoming events, check out the amphitheater's website.
Although this park may be small in comparison to others, it is not lacking in variety of activities and scenery. From mountain biking to attending an outdoor play, this park has opportunities for people of all ages to enjoy, all while being removed from the bustle of the surrounding cities. Go to Joaquin Miller Park to discover the magic of the redwoods. Just minutes away from San Francisco and East Bay towns, you can take advantage of this local park any day of the week.
Learn more about Joaquin Miller Park, Oakland's urban wilderness.