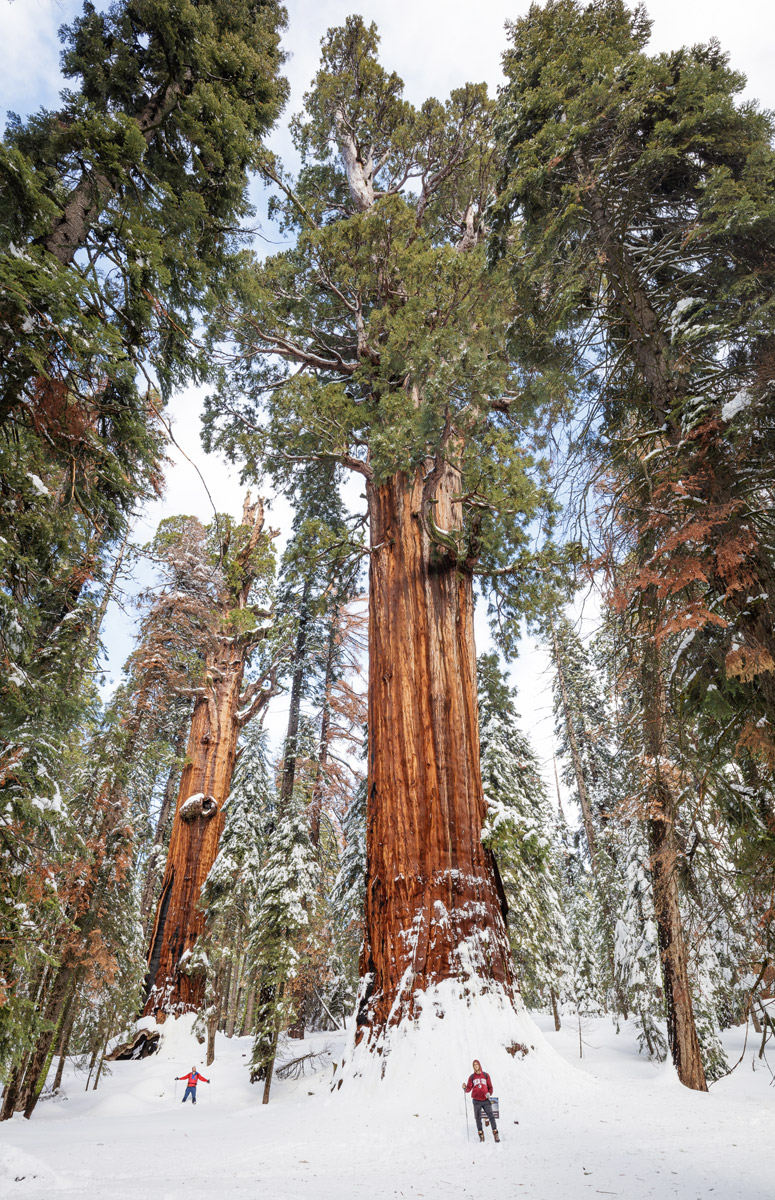 Experience wondrous winter by snowshoeing, skiing, and sledding
When the snow falls, the ancient forests of Sequoia and Kings Canyon National Parks ascend to another level of otherworldly. With the forest floor blanketed in fresh powder and the giant sequoia's evergreen leaves frosted, the trees' massive trunks glow a vibrant orange against a sea of white. Winter is the time to enjoy the giants while snowshoeing, skiing, and sledding.
In Kings Canyon National Park, explore the groves on your own by renting cross-country skis or snowshoes at Grant Grove Village; you can also purchase snow-play gear there. A mile from the village, check out the 1/3-mile walk to General Grant, designated by President Calvin Coolidge as the Nation's Christmas Tree in 1926 for its awe-inspiring beauty.
As soon as the snow levels reach 8 inches, rangers lead free 1 ½-mile snowshoe walks among the giants of Grant Grove in the western part of Kings Canyon National Park, typically from December through March. Snowshoes are provided, but bring your own waterproof boots. Kids must be at least 10 years old. For younger kids (and grownups, too) the hills at Big Stump snow-play area are fun for sledding.
After a long day, hit refresh with some locally sourced cuisine at the Grant Grove Restaurant, or huddle up by the stone fireplace in the lobby great room of John Muir Lodge. For a rustic stay, book one of the Grant Grove Cabins; Cabin 9, also known as the Honeymoon Cabin, was built in 1910 and is the oldest structure in the village. Both lodging options are just about a mile from General Grant.
In Sequoia National Park, Wolverton Meadow is a rollicking snow-play area. Free ranger-led, 2-mile snowshoe walks are also offered in Giant Forest, home of General Sherman, the world's largest tree at 275 feet tall and over 36 feet wide. Lodgepole Market rents snowshoes.
A stay at the beautiful Wuksachi Lodge, built of stone and cedar, is coveted, so book well in advance. If you crave the backcountry, take the steep 6-mile trek from Wolverton to the Pear Lake Winter Hut, a historic cabin for skiers to rest after hitting the advanced-level ski and snowshoe trail.
Sequoia and Kings Canyon National Parks protect some of our oldest and grandest giant sequoia for future generations. To keep them safe, leave nothing behind but ski tracks and snowshoe prints—and maybe a snowperson or snow angel.
---
Visiting
SEQUOIA AND KINGS CANYON NATIONAL PARKS
HIGHLIGHTS: The enormous General Sherman Tree in Sequoia National Park and the General Grant Tree in Kings Canyon National Park.
HIDDEN GEM: Free ranger-guided snowshoe walks in Grant Grove and Giant Forest from December through March. Walks are added to the program calendar. For Grant Grove, sign up at Kings Canyon Visitor Center, or call 559-565-4307. For Giant Forest, sign up at the Giant Forest Museum or call 559-565-4480.
TRAILS: More than 800 miles
DOGS: Allowed on leash in campgrounds and picnic areas. Not allowed on trails. Grant Grove Cabins, John Muir Lodge, and Wuksachi Lodge allow dogs for $25 per dog, per day.
BEST TIME TO VISIT: Year-round.
LOCATION: Snow can cause some road closures. Access Grant Grove via Highway 180. Access Wolverton, Giant Forest, and Lodgepole via Highway 198. Carry tire chains in your car in case they are required.
ENTRY FEE: $35 for vehicles, $20 for individuals traveling on foot or by bicycle (valid for one to seven days).
TRANSIT: Shuttles from Visalia Transit Center are available in summer only.
LEARN MORE: Visit the park's website, or call 559-565-3341.
PLAN YOUR TRIP: Visit ExploreRedwoods.org.
This feature appears in the beautiful printed edition of
Redwoods
magazine.
Redwoods
is a showcase of redwoods conservation stories by leading scientists and writers, as well as breathtaking photos, answers to readers' questions, and how you can help the forest.
Join our thousands of members today for only $25, and you'll get future editions of our Redwoods magazine.
---