What are Ways to Promote Redwoods Resilience Amidst Climate Change?
REDWOODS magazine: This article was created for our magazine that features redwoods news, breathtaking photos, answers to readers' questions, stories of how we are realizing our vision for our next century, and how you can help the forest. Tell us what you think about this issue of REDWOODS magazine for a chance to win a fun prize!
---
By Kristen Shive, PhD, and Scott Stephens, PhD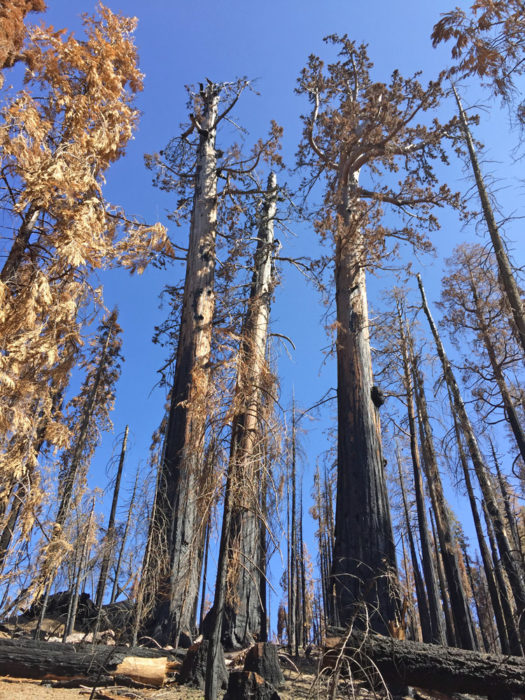 Q: What are ways to promote redwood forests' resilience as the climate changes?
A: The 2018 wildfire season was the deadliest and most destructive wildfire season on record in California, partly because of buildups of combustible vegetation and compounding atmospheric conditions linked to climate change. Coast redwoods didn't sustain great damage during the 2018 fire season. In contrast, at least 50 large, old-growth giant sequoia were killed in the 2017 Pier Fire in Black Mountain Grove, part of which lies in Giant Sequoia National Monument. Although historically frequent fires resulted in the death of some of these giants from time to time, the staggering number killed in the Pier Fire is likely a new phenomenon. This fire highlights the urgent need for restoration.
Coast Redwoods
Even during California's recent drought, rather than exhibiting signs of stress, the coast redwoods were still growing vigorously. However, as the climate continues to warm, reductions in fog could impact growth. Warming also could elevate fire risk by increasing temperature and reducing moisture in fuels (buildups of combustible vegetation). For old-growth forests, the best management strategy to increase resilience to the warming climate is to buffer them by restoring the surrounding, previously logged stands. Using tools such as restoration thinning and prescribed burning, this strategy will not only put them on a trajectory to becoming old-growth forests again, but it can also reduce the risk of severe fires. Restoration also connects habitats for species that rely on old-growth coast redwoods, such as the Humboldt marten.
Giant Sequoia
In giant sequoia forests, the greatest threat to the persistence of the large-diameter trees is severe wildfire. Ironically, with its thick bark, the species is among the best adapted to wildfire — its cones are even primed to open during fire, resulting in a flurry of new seedlings. However, more than a century of
fire exclusion has allowed fuels to build up, changing how fires burn in these ecosystems. Using active forest management techniques, including prescribed fire and restoration-based thinning, we can reduce fuels and increase the forest's resilience to wildfire. Allowing naturally ignited wildfire to burn under moderate conditions, where they don't threaten homes or other infrastructure, can be another important tool. For example, in 2018 there was a late-season wildfire in Giant Sequoia National Monument that burned into the Wishon Grove. Because it was burning during relatively mild weather conditions, it was restorative, essentially acting as a prescribed burn.
Unforeseen Challenges
For both species, new and unpredicted challenges likely await us during this time of dramatic change. Continuing to monitor and evaluate these ecosystems will be required to protect them in the future.
---
Kristen Shive joined the League as the organization's Senior Scientist in 2018, bringing decades of experience in fire management and ecological research in national parks, including Yosemite.
Scott Stephens is a professor at the University of California, Berkeley, who studies fire ecology; forest ecology, policy, and management; and how climate change will affect fire.
Read about our restoration projects, and why and how the League restores redwood forests.
Do you have a question about redwoods? Send it to [email protected], and we may feature the answer in Redwoods.