Community Voices is a series in which guest writers share their perspectives on redwood forests.
Advocate for Diversity Outdoors Revels in Solitude and Beauty Among Redwoods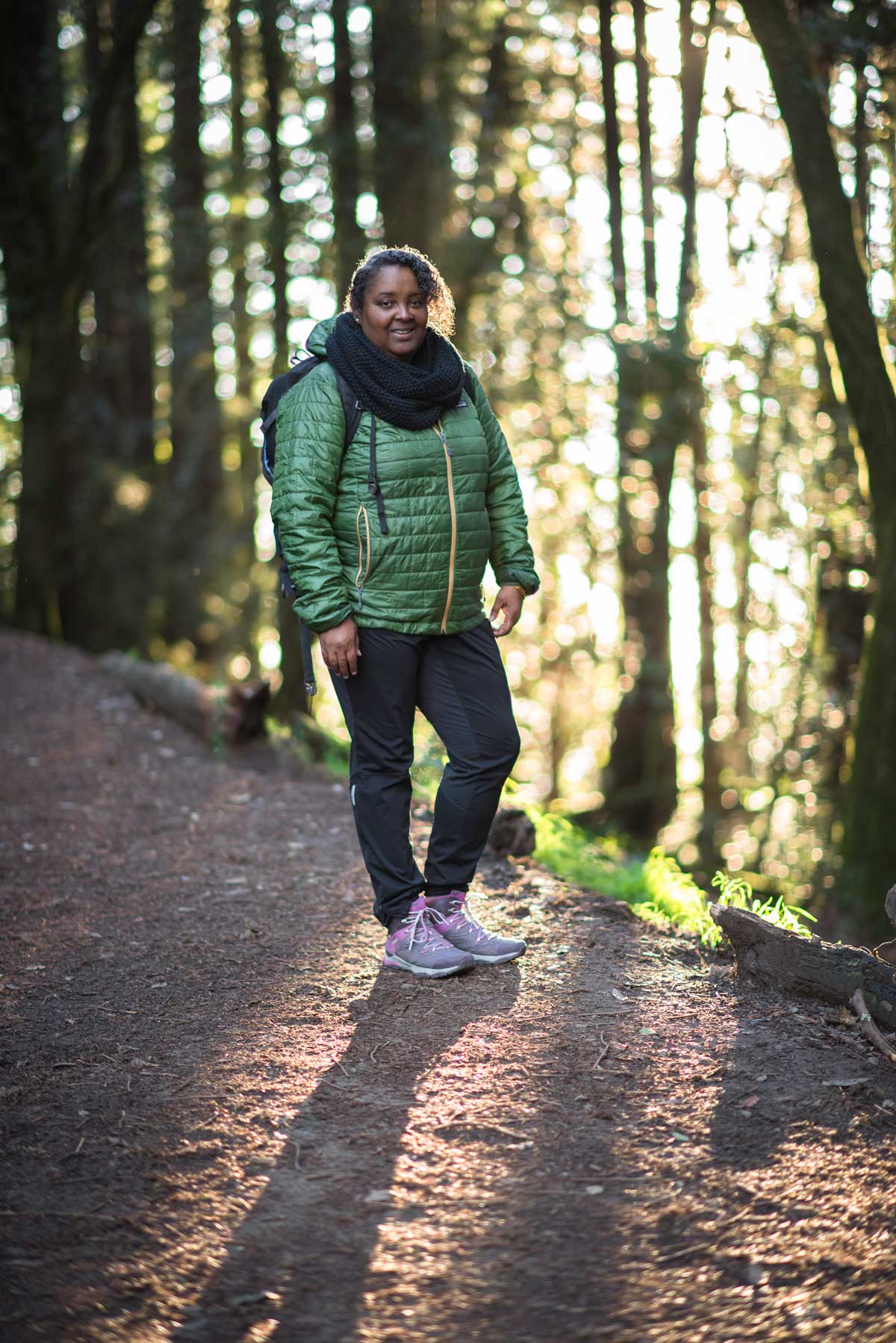 I often refer to myself as a "lazy weekend hiker." The joy isn't in the miles I put in, but in the beauty that surrounds me, which drives me to get outdoors more often. My favorite journeys are the ones that take me through the redwoods—along the Avenue of the Giants or closer to home in the hills of Oakland and throughout Henry Cowell Redwoods State Park. These roofless cathedrals have stood the test of time; as some have crashed to the ground, new growth takes their place, and a new chapter begins.
Redwoods are truly gentle giants in every sense of the word. They have provided me with countless moments of serenity as I've gazed in astonishment at the beauty and resilience I find in these spaces. That's why I hike alone: I love the solitude of being one with nature. There is nothing more gratifying than being fully present to hear the sounds and take in all the sights. I hear a lot from women on their hesitation to hike solo. (My advice: To avoid getting lost, I try to stay on familiar trails within national and state parks, where directional signs are everywhere.)
I've also been asked if being a black woman hiking alone is an added concern. The answer for me is "no." I recall a moment when I crossed paths with a group of women out on a hike. One of them said it was awfully brave of me to be on the trail alone, especially in an area where not a lot of nonwhite hikers are seen. I assured her that she wasn't the first person to share that thought.
I've grown accustomed to the reality of being a unique face out on the trail; this is why I work to promote inclusion in the outdoors, which is so important.
For me, nature is where I feel safe. Nature is my escape, my wonderland of adventure, my happy place, my think tank. My thoughts can become clouded with all the city noises and work commitments, but the moment I step out on a trail, those noises fade, and nature speaks. She speaks to the adventurer, the hiker, the climber, and the skier, who find purpose in the excitement of the wind in their face, the trail that never seems to end, the peak that has never been summited, or the slope that few have attempted. It is a beckoning that the wayward person finds purpose in.
And nature speaks to my desire to be a better human and a better steward of the land, with the understanding that these spaces do not belong to me, but rather to the spirits that linger and protect them in ways that man has long since forgotten. Walking among redwoods or along a coastal trail is a constant reminder of just how fragile nature is and the role we all play in keeping it protected.

LEARN MORE
Read about the League's collaboration with Teresa Baker and the League's work to connect California's diverse communities with redwood forests.
---
This feature appears in the beautiful printed edition of Redwoods magazine, a showcase of redwoods conservation stories by leading scientists and writers, as well as breathtaking photos, answers to readers' questions, and how you can help the forest.
Join our thousands of members today for only $25, and you'll get future editions of our Redwoods magazine.