A hike through Harold Richardson Redwoods Reserve reflects the League's vision for linking diverse populations with the restorative power of redwood forests.
Encircled by ancient redwoods, Amanda Jameson and I stood in silence and awe last fall. One by one, the rest of our group trickled into the gigantic fairy ring with us. As we all sat atop the soft, thick bed of redwood leaves, I listened as this energetic and thoughtful group of adventurers shared insights about their relationships with nature.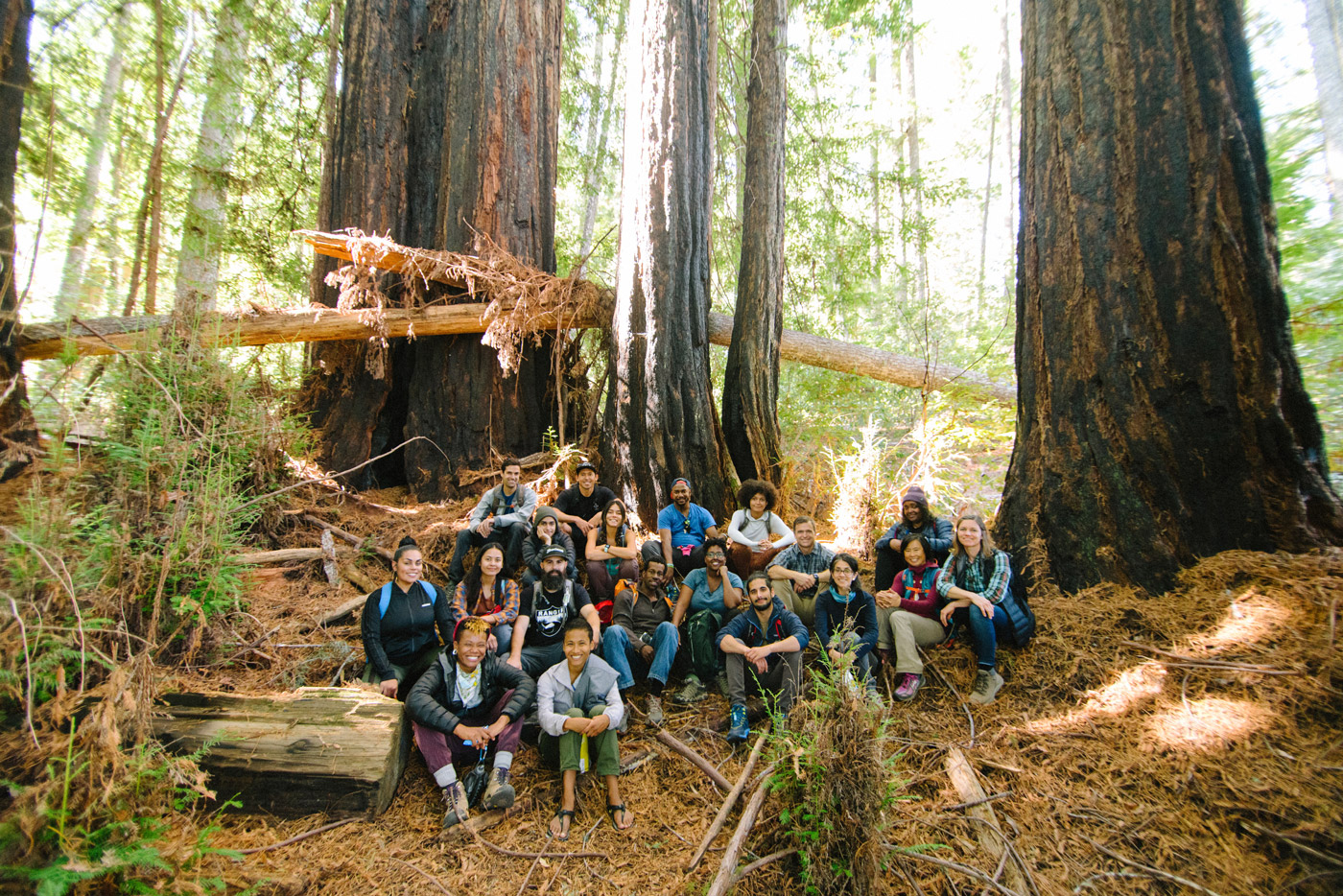 Here on the ancestral land of the Kashia Band of Pomo Indians, deep in the hills of Sonoma County, Save the Redwoods League acquired a hidden old-growth grove called Harold Richardson Redwoods Reserve in 2018. In the next two years, we plan to open this space to the public as one of the few new ancient redwood parks in a generation. The League will manage the park for the foreseeable future, which is both a big deal and a big responsibility. As Director of Parks & Public Engagement, I'm working toward realizing the League's new Connect vision. A big piece of this vision is to invite communities that reflect California's full community to parks across the coast redwood and giant sequoia ranges, and ensure that these parks have the capacity to welcome them.
Creating Inclusive Access to Public Lands
In shared pursuit of this vision, Teresa Baker, a San Francisco Bay Area advocate for diversity in the outdoors, came to us with an idea: to invite people of color, specifically outdoor advocates and leaders, to be among the first to explore Harold Richardson Redwoods Reserve. In the fall of 2019, she brought to this forest an inspiring group with deep knowledge of the outdoors—climbers, backcountry guides, rangers, and everything in between. Among the group were Miho Aida, Shaandiin Cedar, Sherman Dean, Michael Estrada, Kenja Griffin, Rahawa Haile, Alejandra Iraheta, Alejandro Lozano, Miguel A. Marquez, Endria Richardson, Summer Winston, and Amanda Jameson.
As we talked at the foot of these giant trees, these outdoor leaders acknowledged that communities and cultures enjoy the outdoors in a range of ways. Some might be interested in an intense trail run, a hike, or backpacking. For others, it might be about family gathering or quality social time.  For others still, it might be a place for ceremony. I believe anticipating and proactively accommodating a variety of experiences, rather than prescribing any single one, is at the heart of creating inclusive public lands.
Across our diverse communities, the benefits of time spent in nature are real and profound. While we have long known this to be true, it was made particularly clear when Californians flocked to the parks in March during the state's shelter-in-place response to the coronavirus. The situation validated and amplified the need for the League to pursue its Connect vision so that our full community can enjoy these benefits.
The League recently conducted visitor surveys at two redwood park project sites and found that more than 90 percent of visitors to these two sites are white. National studies support this finding about the demographic majority; the 2019 Outdoor Participation Report by the Outdoor Industry Association showed that on average, 74 percent of outdoor participants are white. And yet, we know from our program at the reserve and from visiting urban-adjacent public spaces—such as Dr. Aurelia Reinhardt Redwood Regional Park in Oakland—that diverse groups of visitors engage in outdoor activities.
A National History of Exclusion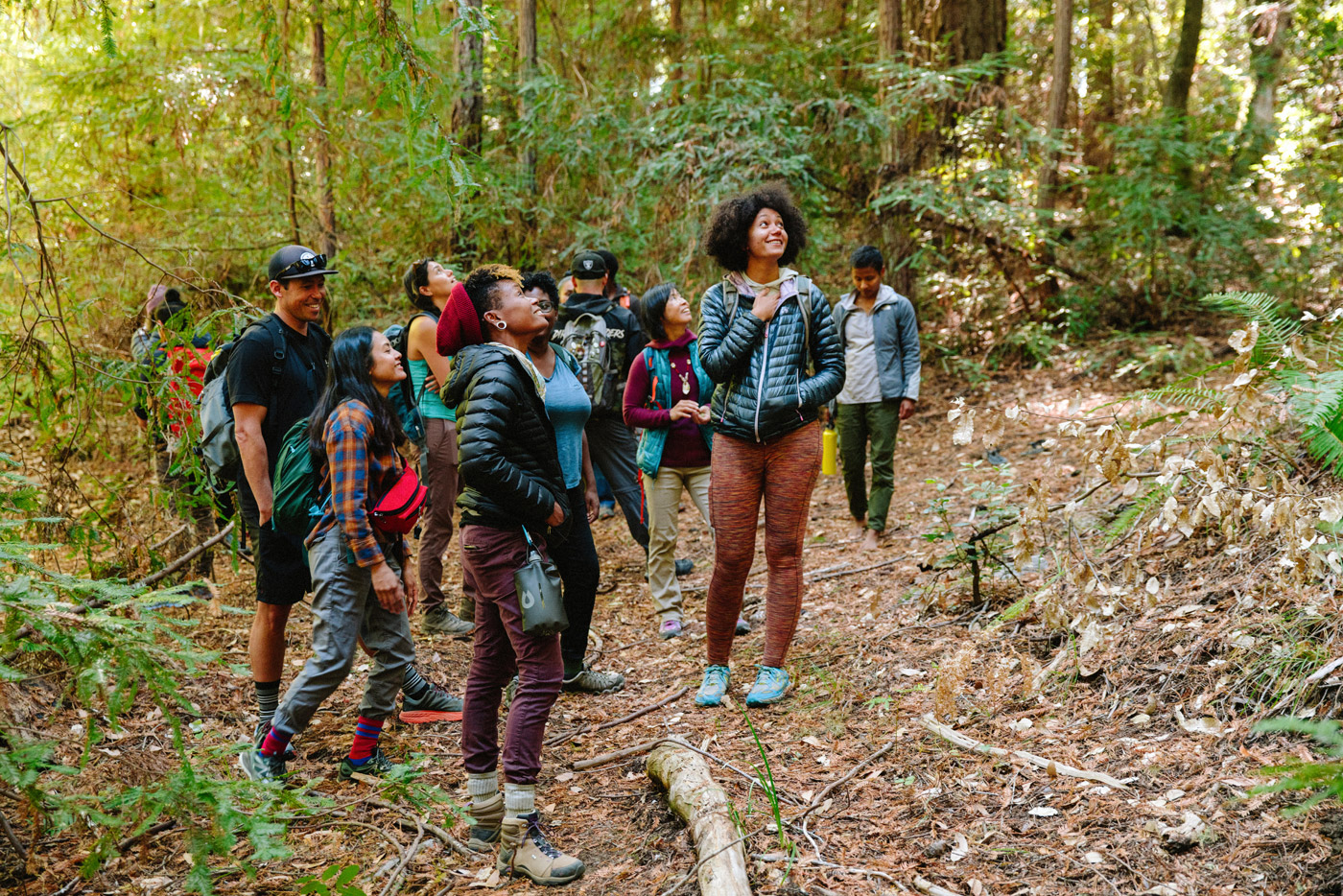 A challenge in providing welcoming park experiences is that there is a well-documented nationwide history of exclusion and discrimination in the outdoors based on race, ethnicity, and other marginalized identities. We at Save the Redwoods League are deeply disturbed by historical and recent racial violence against Black Americans. We understand that there is a very real connection between the history of racism and exclusion in the conservation movement and the racism and injustice that persists in people's everyday lives today. From Christian Cooper to George Floyd, Breonna Taylor, Ahmaud Arbery, and countless others, these are not political issues. These are human rights issues. Therefore, the League's Connect work includes building relationships with underrepresented communities—without specific expectation except for the opportunity to learn where community values and interests align with our mission. This includes partnering with tribes as our neighbors and the historical stewards of the lands. When a rapport and that mutual understanding are established, we have an opportunity and a responsibility to deliver on our conservation vision by designing park projects and programs and stewarding forest resources in ways that integrate these interests.
The early-engagement strategy of including broad perspectives in our public access planning will inform our work at the reserve. This work also sets a precedent for other projects such as our Alder Creek property, which is a gateway to the giant sequoia forests for the communities of the Central Valley and Southern California. Now is our chance to be intentional and address barriers through thoughtful park and program design.
That day at the reserve, we talked about how redwood trees spring from one another and are strengthened by their interconnected roots. One of the participants pointed this out as a metaphor for our human communities—how our resilience depends on past and present connections. That moment resonated for us all, and the discussions during the rest of the day left me filled with gratitude and hope for a more inclusive outdoor culture. I thought, "We really can do this together."
My most magical moments in the outdoors have always been experienced with others, in community. There's something so special about gathering in the redwood forest, feeling the crunch of earth under your feet, and the weight of the silence broken only by awe-inspired conversation. Nature is an unparalleled convener and healer. The League is actively working to connect—or reconnect—everyone with the forests in ways that are most meaningful to them. This is a clear win for the redwoods and for all Californians.
Connecting Communities with redwoods
What
Save the Redwoods League has scaled up work to connect everyone with redwood forests in ways that are most meaningful to them.
Film
The League's collaboration with Teresa Baker, an advocate for diversity in the outdoors, yielded the film Here We Stand, featuring our Harold Richardson Redwoods Reserve. Produced by The Outbound Collective, the film is part of Everyone Outside, an initiative to create a more inclusive and culturally diverse outdoor recreation community. Learn more about the film.
Solidarity
Read the League's commitment to stand against racism.
---
This feature appears in the beautiful printed edition of Redwoods magazine, a showcase of redwoods conservation stories by leading scientists and writers, as well as breathtaking photos, answers to readers' questions, and how you can help the forest.
Join our thousands of members today for only $25, and you'll get future editions of our Redwoods magazine.