Pedaling through Humboldt Redwoods State Park offers an immersive forest experience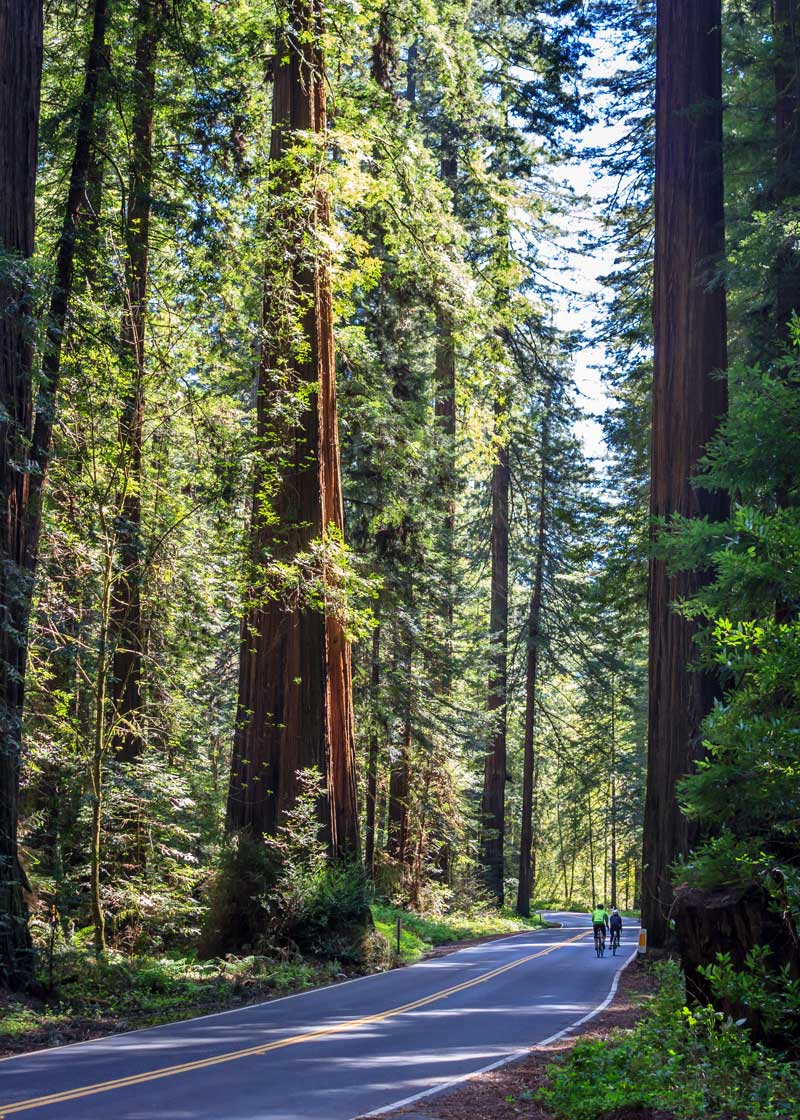 We stared at him, his little eyes wide as he craned his neck, trying to see the tops of the redwoods over 300 feet above from his 6-year-old frame. He may as well have tried to swallow the clouds. Landon and his mom, Tina, were visiting from Tennessee, and we all decided the best way to see the redwoods would be to bike a section of the Avenue of the Giants. This 31-mile road is lined with the enormous trees of Humboldt Redwoods State Park, which contains the largest expanse of ancient redwoods on Earth. Landon and Tina biked a lot back home and had brought their bikes with them to the Golden State. Biking makes it easy to stop and touch the redwoods' bark, feel the small dips in temperature in deep pockets of shade, and smell the forest's earthy aroma. You can even see the purple underside of the sorrel in the breeze.
At the time, I worked in Sonoma County, so the three of us packed their rental car and headed north with bikes and tents. In the days before smartphones were ubiquitous, Tina, Landon, and I were going by feel. We camped at the Albee Creek campground, 5 miles west of the avenue on Mattole Road, which hosts plenty of groves of giants. Landon made friends with another little boy camped near us, and they hid in stumps until it was time to mount the bicycles. His tiny wheels rolled down the road as he yelled, "You guys! Look at this one!" The magic of the place, through his eyes, was palpable. Every individual tree was a marvel.
We rode down Mattole Road until it intersected the avenue, and hesitated before deciding to go north or south. Because we had no map, and my memory of being here years before was foggy, we blindly chose left, to the north. Several miles later, it started to rain, and we all shivered. Since I was more accustomed to the fickle, coastal climate, I had layers and snacks in my bike bags. We scrunched my leggings onto Landon's short legs and I donned my hat under my helmet. To distract him from what could be a miserable situation, I pretended to work in "Hollie's Cafe," stationed inside a burned-out redwood trunk. "The cafe has a limited menu," I said, "but it is very high quality. There is a build-your-own-cracker option, with salami, cheese, apple, and nut choices. We also have a dessert menu: chocolate chips and dates." He helped me serve our one customer, Tina, with delight. We prepped everything over a bandanna and took all our scraps with us to ensure wildlife would stay wild and not rely on human food.
The three of us cycled all the way to Redcrest, 9.5 miles one-way. It was a long ride for a child and his small wheels. At the tiny store, we got smashed pennies and ice cream, a welcome treat. We all headed back to the campsite, and Tina and Landon hitched a ride for the last few miles.
Years after this memorable trip, I moved to Humboldt County for good. Taking visitors to bike the Avenue of the Giants is one of my trademark sightseeing moves. When my dad came to visit, I watched his huge 6 ½-foot frame twist to take in the ancient trees as he pedaled, the same look in his eyes as Landon's. He was 60 then, and I realized it matters not whether someone is 6 or 60—the awe is the same. The bicycle can immerse us in the redwoods' unique environment, while we breathe in the sharp, evergreen scent of the leaves, and feel as connected to the forest as the redwoods are to each other, through their ancient, intertwined roots.
How to bike Avenue of the Giants
Getting ready
Best season to ride: Spring and early fall for light traffic. Traffic is heavier in summer, but best for a stop to swim in the Eel River. Spring is cool and moist, temperatures, 30 F-50 F; summer, warm and dry, 50 F-80 F; and fall, occasional showers, 40 F-70 F.
Recommended equipment: The paved avenue is mostly flat with a few hills, so bring a bike with gears, as well as a helmet, water, snack, and a brightly colored shirt or jacket and blinking bike lights so you'll be visible to motorists.
---
Getting there
Directions: Avenue of the Giants, also known as California State Route 254, is off U.S. Highway 101; the southern entrance is at exit 645 in Miranda, about a four-hour drive north of San Francisco. The northern entrance is at exit 674 in Scotia, about a 40-minute drive south of Eureka.
Parking: Founders Grove, Humboldt Redwoods State Park Visitor Center, and Dyerville Overlook.
Traffic: At times there is ample, mostly slow traffic on the avenue. There are several sections with little to no shoulder.
Elevation gain: From the northern entrance 31 miles to the southern entrance, the multiple hills total 2,525 feet of ascending and 2,461 feet of descending.
---
Recommended routes
Beginners: Park and ride short distances either north or south from Humboldt Redwoods State Park Visitor Center and back. The visitor center offers park information and restrooms. North 4 miles is the majestic Founders Grove of ancient redwoods, a good picnic site. The grove was established to commemorate the origins of Save the Redwoods League in protecting this ancient forest landscape.
Intermediate riders: Park at the Dyerville Overlook, and ride to the southern entrance and back, a 36-mile round trip with 3,454 feet of climbing.
Advanced riders: Park at the Dyerville Overlook, or Founders Grove, and ride the avenue's entire length twice, using your car as a midway resupply point for this 62-mile route.
---
Select places to stop
(North to south)
Greig-French-Bell Grove: A picturesque picnic spot beneath towering redwoods about 3 miles south of the avenue's north entrance.
California Federation of Women's Clubs Grove: A picnic spot with kid-friendly swimming holes in the Eel River, 3 miles north of the visitor center.
Humboldt Redwoods State Park Visitor Center: A place to find park information, a gift shop, restrooms, and picnic tables. Next to Burlington Campground, it's 14 miles from the avenue's south entrance.
Shrine Drive-Thru Tree: A tunnel carved through a redwood through which cars and bicycles may roll for a small fee. 13078 Avenue of the Giants, Myers Flat.
Food: Available in cafes and a market in Miranda.
---
Campgrounds in Humboldt Redwoods State Park
(North to south)
Albee Creek: 5 miles west of the avenue on Mattole Road.
Burlington: Next to the visitors center on the avenue.
Hidden Springs: 5 miles south of the visitor center on the avenue.
---
Learn more
Humboldt Redwoods State Park: 707-946-2409
California State Parks camping reservations: 800-444-7275