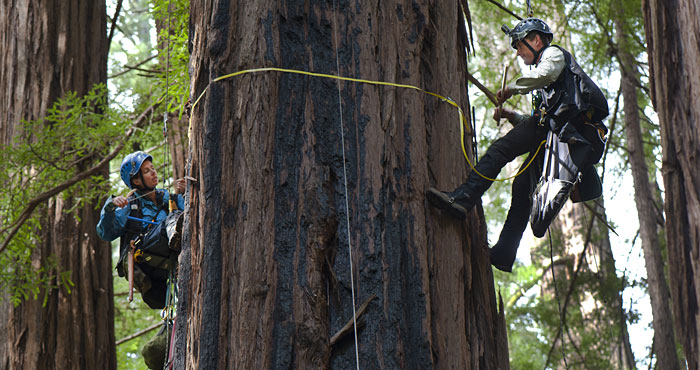 In March 2014, a research team sponsored by Save the Redwoods League and the Evelyn Tilden Mohrhardt Fund (external link) at The San Francisco Foundation became the first scientists to climb the ancient trees at Muir Woods National Monument and survey life in the canopy. As part of the National Park Service and National Geographic BioBlitz, the team of researchers from Humboldt State University and UC Berkeley climbed a coast redwood and a Douglas fir in Cathedral Grove to record data and document the species they found living high above the forest floor.
---
Results from the Historic Climb
Coast Redwood
Humboldt State University scientists Stephen Sillett and Marie Antoine, with help from canopy biologist Jim Campbell-Spickler, climbed an ancient coast redwood tree in Muir Woods' Cathedral Grove to record data for the League's Redwoods and Climate Change Initiative (RCCI) and document species diversity in the canopy. They discovered that the coast redwood was 76 meters (about 250 feet) tall, between 740-800 years old, and home to over 40 species. They also found that the growth rate of this redwood had increased in recent decades, a trend also observed in other coast redwood forests studied in the RCCI program.
Additionally, Allyson Carroll and Bob Van Pelt of Humboldt State University collected tree core samples from several trees and three-dimensionally mapped Cathedral Grove. Results from their data will explain how the forest at Muir Woods has grown over the past decades and centuries, helping us understand how climate change is affecting the park.
Douglas Fir
Scientists Rikke Reese Næsborg and Cameron Williams of UC Berkeley climbed an old-growth Douglas fir, also in the Cathedral Grove, to document data about the tree and its biodiversity. The Douglas fir was 70 meters (about 230 feet) tall, and over 55 species were observed in its canopy. Additionally, a juvenile arboreal salamander was found among the cracks of the tree bark, ten meters off the ground.
See a partial list of species that can be found in the coast redwoods and Douglas fir.
BioBlitz 2014 Gallery
---
Learn More
Blogs
News
---