Downloads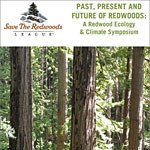 The initial findings of the League's Redwoods and Climate Change Initiative (RCCI) program, released August 14, 2013, mark a huge leap forward in our understanding of redwood forests. The League's RCCI program brought together leading experts from the University of California, Berkeley; Humboldt State University; the Marine Conservation Institute; and several other organizations to study past, present and future impacts of climate change on coast redwood and giant sequoia forests.
We learned so much during the Redwoods and Climate Change Initiative Symposium at the Gordon and Betty Moore Foundation in January 2011. Review this brief summary of the Symposium including the important take-away messages from the invited speakers. We look forward to continuing the important discussions of the day in the months ahead.
---
Videos
Climate Monitoring

Which sites may be experiencing the current historic drought more? We'll know more after our next data download. Check our RCCI Forest Network for the latest results from our plots.


BioBlitz 2014: Muir Woods
Read more about what our scientists found in the canopy of Muir Woods during the 2014 BioBlitz event.


About RCCI
From the Scientists