Healing Headwaters Forest Reserve
Protecting the redwood forest isn't just about preservation — it's also about restoration. Save the Redwoods League helps restore habitat for wildlife that depends on ancient forests. With your gifts, we also speed development of tomorrow's beautiful old-growth groves. These groves will help mitigate climate-changing greenhouse gases, and they'll provide clean water for people and animals.
Your generous donations have recently enabled progress toward these goals in the US Bureau of Land Management's Headwaters Forest Reserve.

The Reserve includes 7,472 acres just southeast of Eureka, California, covering an area about the same size as Berkeley, California. Named Headwaters because the headwaters of the South Fork Elk River and Salmon Creek are in the area, the Reserve was established after a long and contentious dispute over the logging of its old-growth coast redwood forest. US Senator Dianne Feinstein (D-Calif.) played a central role in negotiating the 1999 agreement that established lasting federal protection for Headwaters.
Of the Reserve's total acreage, 3,088 acres are covered by amazing ancient redwoods. Reserve managers are working to accelerate development of old-growth forest characteristics such as giant redwoods, clear-running streams, and diverse plants and animals on the remaining 4,384 acres, which were extensively logged.
Threats from Eroding Roads
The mission is critical for coho salmon and steelhead trout populations, both federally threatened, in the South Fork of the Elk River within the Reserve, because eroding former logging roads bury the spawning beds under blankets of suffocating silt.
Decommissioning Old Roads
The 2014 League grant enabled the upgrading and maintenance of 2 miles of roads that are essential for managing and monitoring the Reserve.
The League grant came at the right time, when Reserve's federal funding was cut. "Save the Redwoods League stepped in at a critical point and helped us bridge this funding gap, and we've been able to stay on schedule," said Reserve Manager Ben Blom.
Heavy Equipment Transforms Landscape
Road decommissioning in Headwaters is a demanding task, requiring both heavy equipment and people who know how to employ it with the utmost delicacy.
"The best people to hire for taking out roads are the people who put them in," said Blom. "By that I mean loggers. They understand how these roads were put together, and they understand how to take them apart."
That was evident on a recent day of decommissioning work on a steep mountainside at the top of the Elk River drainage. Ex-logger Gordie Stephens scooped up fill from the roadbed with a gigantic excavator, depositing it into a rugged all-terrain dump truck driven by his friend, Kenny Sauers. After eight scoops, Sauers drove to an old log landing, or large flat area where loggers temporarily stacked logs during previous logging operations. On the landing, he unloaded soil taken from eroding areas for use to restore the mountainsides' contours.
Stephens used the bucket of his excavator to restore the shape of the original slope, the work augmented by a bulldozer where necessary. He placed tree branches and other large woody debris uncovered during the road decommissioning process onto the finished slopes to provide intermediate habitat for wildlife and help stabilize the bare surface.
Stephens backed off the road as he worked. In front of him, crewmen spread rice straw on the recontoured ground, protecting the soil from rain splash and providing a thin mulch layer that will promote vegetation growth. An observer could barely tell that a road had been there mere hours before. The mulched soil seemed almost like a meadow blending into the surrounding forest.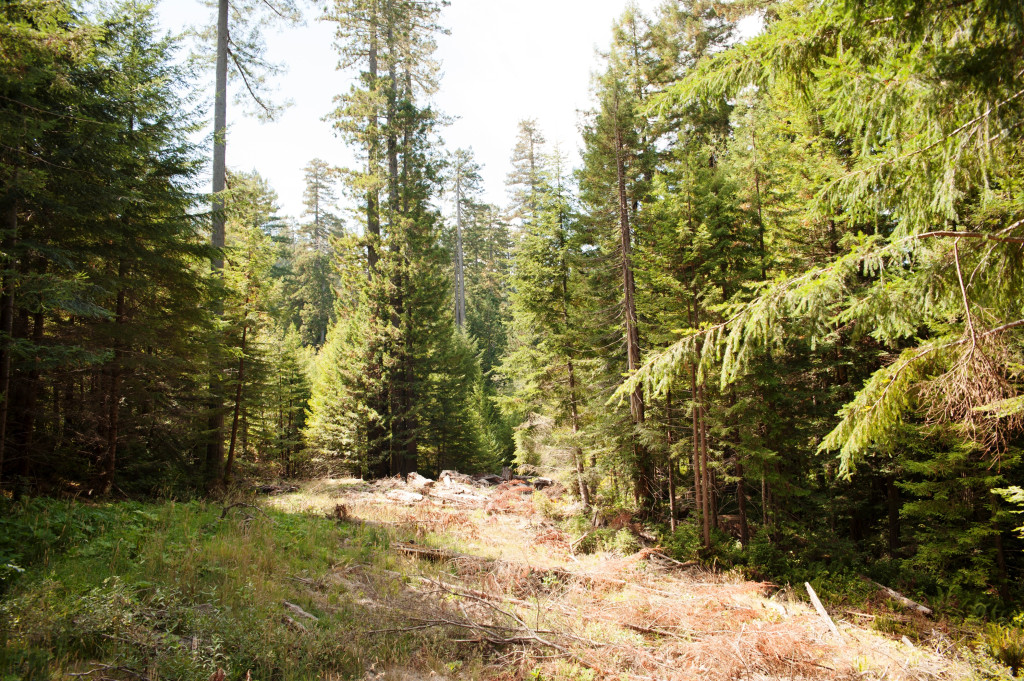 Replanting Redwoods
The League's 2014 grant, our first to the Reserve, helped heal the forest also by funding the planting of redwoods and the removal of invasive pampas grass. Headwaters contains several abandoned log landings where, because of soil compaction and the resulting low soil moisture-holding capacity, the forest's native trees and other plants did not regrow. Instead, non-native pampas grass spread.
The California Conservation Corps removed some of that pampas grass. Tree planter Marty Maskill planted redwoods. Eventually those trees will shade out any remaining pampas grass.
After the heavy equipment operations and the start of the rainy season, coast redwood seedlings were planted on the newly decommissioned roads once soil moisture conditions were best.
"Without plantings like this, Douglas firs would grow and dominate the forest," Blom said. "By planting redwoods and allowing Douglas firs to naturally regenerate on these restored roads, we can promote growth of a forest that more closely resembles the species mix of the surrounding old-growth stands."
As the young redwoods grow, they'll help mitigate climate-changing greenhouse gases. The historic findings of the League's Redwoods and Climate Change Initiative show that ancient redwood forests are part of the climate change solution because they store at least three times more carbon above ground than any other type of forest.
Maskill said he loves to do his part to restore beautiful forests like Headwaters.
"You know how they say that wherever the Buddha walked, lotus flowers would grow in his footsteps?" Maskill said. "Well, when I'm planting, I look back and see redwood trees in my footsteps."
Blom surveyed recent restoration work with admiration.
"The crews here are incredible," he said. "Thanks to them and partners like Save the Redwoods League, we're closing in on our goal. We only have about 4 miles of road left to decommission. We will replant about 5,000 trees on the 4 remaining miles and potentially some more landings. It has been a very long haul, but seeing light at the end of the tunnel makes it all worthwhile."
Photos by Humboldt State University unless noted otherwise.
Visit Headwaters
You can visit Headwaters Forest Reserve. From an educational walk along the first mile of trail to an 11-mile hike to an old-growth redwood forest, the Elk River Trail (external link) offers something for everyone. In addition, the Headwaters Education Center (external link), 0.6 miles from the Elk River Trailhead, offers events and educational displays. The Salmon Pass Trail (external link), just outside the City of Fortuna, weaves its way through old-growth and second-growth redwood forests for nearly 3 miles. This trail is only accessible by guided tour.
Help Make a Difference
You can help us continue critical recovery work in forests like Headwaters. Your gift today to the Redwood Recovery Fund will be used exclusively to restore redwood forest habitat.
---
Tags: BLM, current, forest restoration, Headwaters Forest Reserve, redwood forest, redwood restoration, Restoration Project, restore, road decommissioning, tree planting, US Bureau of Land Management