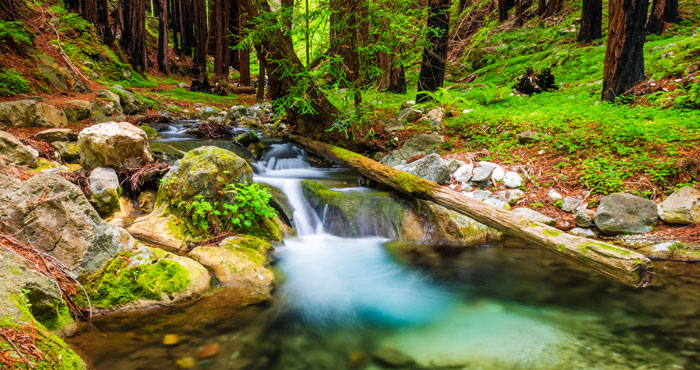 On the mountainous Big Sur coastline overlooking the panoramic Pacific, you'll find Limekiln State Park, where redwoods line tumbling Hare Creek in exquisitely beautiful landscapes. Here, Limekiln Creek plummets 100 feet over Limekiln Falls. Rare California condors soar above. Sea otters frolic offshore and bobcats, deer, foxes and ringtails roam the redwood forest. Limekiln is home to the southernmost old- growth redwood grove in California. It's also remarkable because northern and southern California species live together here; you can't find both yucca and coast redwoods in very many parks.
These inspiring and precious natural resources are the reasons that Save the Redwoods League and California State Parks partnered to protect and open the 711-acre park in 1995.
Save the Redwoods League continues to work side by side with California State Parks, the National Park Service, the Bureau of Land Management and other close partners on projects to sustain and improve our park systems. Together we are making these incredible places more accessible for our own changing times and for the future.
Building upon our founders' dream of protecting and enhancing redwood parks, the League is now engaged in a wide range of activities — from saving threatened redwood landscapes and restoring forests, to upgrading park amenities, expanding education and interpretative programs, and finding new ways to benefit parks and visitors.
One such project is under way at Limekiln State Park. In July 2015, the rotting wooden footbridge connecting the camping area to all of the park's trails was closed because it was at risk of collapsing. California State Parks couldn't fix the bridge because of budget constraints. Save the Redwoods League stepped in, contributing $38,700 to help rebuild the span, with California State Parks covering the $119,000 remainder. Construction is to be complete in February 2016 to serve the nearly 16,000 annual visitors who enjoy the park's 27 campsites and 3.4 miles of trail. Rebuilding the bridge will also protect plants and animals by preventing people from walking in the streambed.
"We're glad to help replace the bridge so that visitors can continue to enjoy the breathtaking sights of Limekiln State Park," said Paul Ringgold, Chief Program Officer of Save the Redwoods League. "It's always been part of our mission to help people experience the redwood forest. With projects like this bridge construction, we will fulfill our mission by delivering an excellent park experience to all who visit the redwoods."
Limekiln's dramatic beauty makes the park a favorite among many visitors.
"What a surreal and wonderful place," said Michael S. of Oxnard, California. "It's one of the few places in the world where you can walk in grove of redwoods, visit a beautiful waterfall, explore abandoned kiln from the late 1800s then walk to a secluded beach."
Photographer Mick G. of Bakersfield, California, said his Limekiln visit was "absolutely one of the most amazing experiences ever! I will be back hundreds of times more."
Plan your trip to Limekiln State Park.
---
Tags: Calfornia State Parks, current, footbridge, forest restoration, redwood forest, restore