Help Save the Redwoods League track climate impacts in the coast redwood forest by observing Western sword fern (Polystichum munitum). This fern is common in the world's tallest forests and responds quickly to increases or decreases in rainfall. You can help us track changes in these ferns in your local forest by joining our Fern Watch project through the free iNaturalist App. With your help we can locate habitat most buffered from climatic extremes and focus our conservation efforts in areas resilient to climate change.


About the Project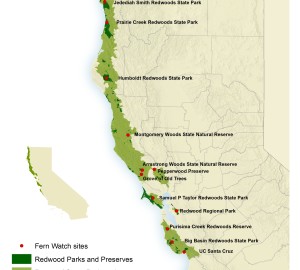 In 2008, League scientist Dr. Emily Burns discovered that the height of the most common plant in the coast redwood forest is affected by how much rain and fog fall in the woods. In wetter forests, like the rainforests of Humboldt and Del Norte Counties,
Western sword fern
(
Polystichum munitum
), grows in patches so tall and thick on the forest floor that the ferns are hard to walk through. In drier forests, like the coast redwood forests of Santa Cruz and Monterey Counties, sword ferns grow more sparsely and the fronds on these ferns are shorter. In dry years, sword ferns lose many of their fronds and show signs of stress before other species—like the redwoods themselves—do. For this reason, sword fern is an
important indicator of climate change
and we are studying these ferns to detect drought in the redwood forest.
Fern Watch Partners
---
How to Get Involved
Locate Western sword fern on the forest floor throughout the coast redwood ecosystem and other Californian forests. Its fronds reach lengths of more than 1 meter and typically live for approximately 30 months. Fiddleheads emerge in spring.
Add frond measurements and pictures of your fern observations through iNaturalist. Just download the iNaturalist app on your iPhone or Android, create an iNaturalist account and join the Fern Watch project.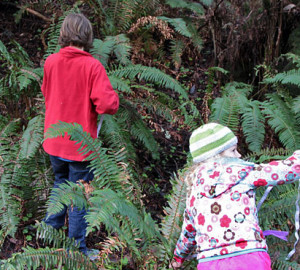 Observe
Photograph the fern up close so the frond characteristics are documented. Use multiple photos if necessary to show presence of fiddleheads and sori.
What Did You See?
Identify the species or leave it blank if unknown. Use our Fern Watch Species Guide if you need help.
Project
Select Fern Watch and note additional traits about the fern:
Fiddleheads—Do you see any new leaves emerging as curled fiddleheads? If you see at least one fiddlehead record YES.
Number of Green Fronds—Count the number of green fronds including fiddleheads. Record the number of living fronds.
Presence of Sori—Sori are the round spots on the underside of fronds which produce spores. Do you see any of these reproductive structures? If brown or green sori are present, record YES.
Frond Length—Measure the length in centimeters of one uncurled green frond from the tip down to its lowest leaflet (pinna). Record the length to the closest whole centimeter. Repeat length measurements on four more fronds.
---
How We Use Your Data
Dr. Burns and her field crew have been collecting sword fern data since 2012 in 10 forests throughout the coast redwood range. Pictures of ferns uploaded to iNaturalist are used to help determine the best times for field sampling and assist in determining fern health in the vast region of the redwood forest outside of the core research areas. Adding your data to this project contributes to a long-term study on how sword ferns are affected by a changing climate and helps us determine which forests are impacted most by drought. With this information we can focus our conservation efforts throughout the redwood range.
Results
How is drought affecting the ferns?
Tracking Western sword fern's response to weather patterns over the past four years has been especially interesting because the drought has intensified throughout the study. Not only did 2014 turning out to be one of the hottest years on record, but so far was also one of the driest. Consistent with Dr. Burns' early research, ferns in the northern end of the range are taller than the ferns in the southern end of the range. As the drought took hold between 2012 and 2013, Western sword fern avoided the drought by reducing their leaf area by approximately one third. This means that the ferns put out fewer number of new fronds and/or had fronds that were smaller in size. By having smaller fronds, the ferns can conserve more water but that also means that won't be able to photosynthesize as much. The fact that these ferns have survived during the recent drought lets us know they are a hardy species capable of withstanding extreme drought events. This could explain why this is the most common understory plant in the coast redwood ecosystem.
New Lessons
We've integrated our scientific findings into our new Redwoods and Climate Change High School Program. Students draw on our research data, making climate change tangible and relevant because they can see how environmental changes affect redwoods in their back yards. Learn more about this program.
For more information on Fern Watch, contact our Education and Interpretation Manager at education@SaveTheRedwoods.org or 415-362-2352.
---
Educational and Online Resources
---
Fern Watch Plot Photo Tours
Jedediah Smith Redwoods State Park Plot
---
Prairie Creek Redwoods State Park Plot

---
Humboldt Redwoods State Park Plot
---
Montgomery Woods State Natural Reserve and Samuel P. Taylor State Park Plots
---
Redwood Regional Park Plot
---
Big Basin Redwoods State Park Plot
---
UC Santa Cruz Campus Reserve and Big Creek Reserve Plots