No Labor Day Weekend plans yet? We've got an idea: get out and Explore Redwoods. Now that summer's coming to a close, a beach day might also be in order. Luckily, there are a few places not too far from the San Francisco Bay Area where you can do both. From the redwood forest to Pacific waters, here are four ways to fit in a beach day near the world's tallest trees before summer's over.
Distance from San Francisco: 25 to 45 minutes by car
Take an hour-long scenic drive through steep winding road in Mount Tamalpais State Park from Mill Valley to Stinson Beach. The white-sand beach is idyllic but sure to be crowded on a holiday weekend. (Call the lifeguard tower ahead of time for parking updates: 415-868-0942.) Have a wetsuit on hand if you'd like to take a cool dip in the Pacific. The surf's pretty good, too. You can also bring your fishing poles, volleyballs, and picnic baskets, and make it a full day of fun in the sun. The beach (and the scenic ride there) is also accessible by bus from San Francisco, the East Bay, and Marin. Feel like staying the night? HipCamp may have some last-minute spots available.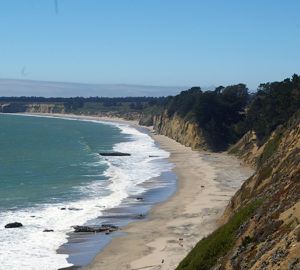 Distance from San Francisco: 1 ½ to 2 hours by car
From the top of the Santa Cruz Mountains in Castle Rock State Park, through primeval forests in Big Basin Redwoods State Park, and all the way to Waddell Beach, the gorgeous 30-mile Skyline-to-the-Sea trail is a backpacker's dream. This trek is definitely worth the sore muscles if long hikes are your thing. A three-day weekend would normally be the perfect time to try to cover all 30 miles. However, there are currently no trail camp sites available for this weekend. You can always try calling 831-338-8861 for same-day camping reservations, or check out options at HipCamp. On a day trip, you can still enjoy an accessible portion of the trail near the Big Basin Redwoods State Park Headquarters and Visitor Center.

Distance from San Francisco: 2 ½ to 3 hours by car
"Life is a journey, not a destination," said Ralph Waldo Emerson. This quote couldn't be more relevant to this scenic route in Mendocino County. Eleven miles of Highway 128 takes you beneath a tunnel of redwoods next to the Navarro River all the way to the sea. Along the way, stop by a popular swimming hole at mile marker 3.66. Kayakers and canoeists will love these serene waters. For an overnight stay, there are 10 primitive sites at Navarro Beach Campground, and they're first come, first served, so show up early. (FYI: the bathroom situation includes chemical toilets with no running water.) You can also check HipCamp for a last-minute booking.

Distance from San Francisco: 3 to 4 hours by car
The iconic drive down Highway 1 along the glorious Pacific Coast is worthy of becoming a summer ritual. If you haven't checked that off the list yet this season, now's the time. While you're there, check out an easily accessible old-growth redwood grove. Just two miles north of the entrance to Julia Pfeiffer Burns State Park (at mile marker 38), there's a half-mile fire road that leads to a hidden rocky beach at Partington Cove. Hike down to find old-growth redwoods that the League helped to protect as part of the park in 1981.

Visit ExploreRedwoods.org to start planning your weekend beach getaway today!