Pioneering organizer inspires descendants
More than 100 years ago, Eureka's Laura Perrott Mahan helped galvanize the movement to protect old-growth redwoods in danger of being clear-cut. In recent months, dozens of Mahan descendants and friends continued her legacy by supporting Save the Redwoods' work to protect coast redwoods.
Mahan emerged from the Humboldt County Federation of Women's Clubs to lead its Redwood Park Committee in 1913. She would go on to create Save the Redwoods League as Organized by the Women of Humboldt County, and use this platform to successfully advocate for the protection of redwoods throughout the region. Her most famous act was standing with other female conservationists between the loggers and the trees in Dyerville Flat. This bought time for her husband James and his brother Lawrence to file court injunctions to save the grove.
Late last year, during the centennial celebration of Humboldt Redwoods State Park (which includes 17,000 acres of old-growth trees that Laura helped preserve), two Mahan descendants, Martha Mahan Cain and Larry Mahan, approached the League to find a way to honor this family legacy. They eventually decided to raise funds to help the League purchase Atkins Place in Mendocino County.
Both Cain and Larry Mahan are avid family history enthusiasts, but the effort is more to them than genealogy; it is about passing on a sense of stewardship of our environment.
"As a retired schoolteacher, I'm concerned about climate change and making sure that future generations not only understand what's at stake, but also are empowered to take action" said Cain. "Our generation has enjoyed a great run on this planet, and our children deserve the same."
"While both the Mahan and Perrott families benefited financially from the lumber industry, they similarly developed a sense of the need to preserve the inherent beauty of Humboldt. We saw this as an opportunity to unite everyone around this aspect of the family legacy," said Larry Mahan.
Cain and Larry Mahan met with more than two dozen members of their extended family over Zoom to discuss the idea, leading to a Mahan Family Descendants and Friends donation web page, set up with the League's help. "Our family runs the socio-economic and political gamut, and sometimes we don't agree on things, but taking action to protect the redwoods was something that we all could come together around," Cain said. "It's a family project across generations."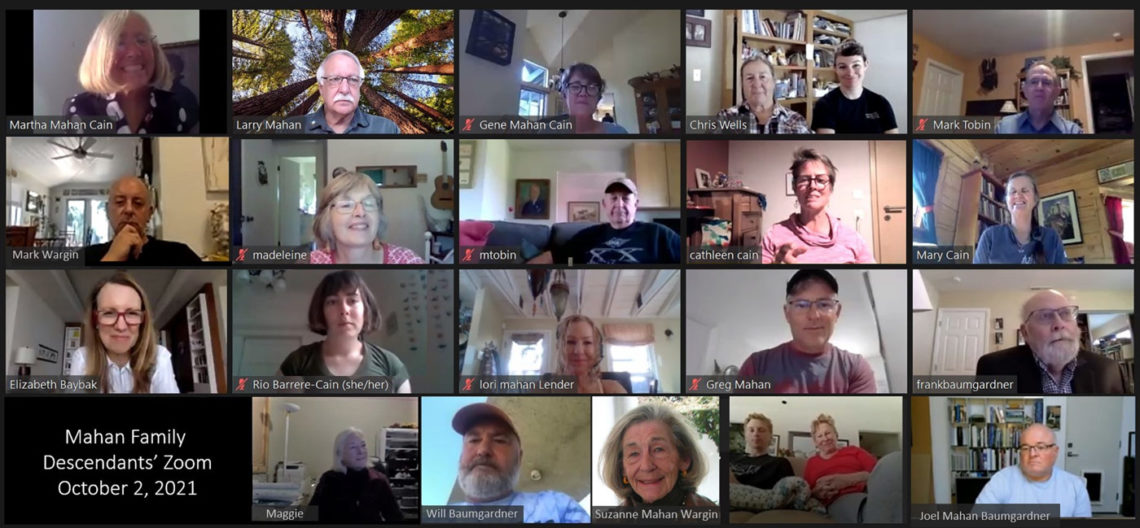 Larry Mahan emphasized the unexpected benefits. "To hear the personal experiences of family members who have walked the Mahan Trail in Founders Grove, how it moved them; this is what we'll pass on to our children and theirs," he said.
The Mahan family effort began with a fundraising goal of $25,000 but has already reached $35,000. To honor this effort, a wilderness grove will be dedicated in the family name in Humboldt Redwoods State Park—a fitting counterpoint to the Mahan Trail and Plaque to James and Laura Mahan that currently honor their storied ancestors.
This feature appears in the beautiful printed edition of Redwoods magazine, a showcase of redwoods conservation stories by leading scientists and writers, as well as breathtaking photos, and ways you can help the forest. Only a selection of these stories are available online.
Join our thousands of members today for only $25, and you'll get future editions of our Redwoods magazine.