Drought is another concerning factor in wildfire risk
While the damage to historical buildings at Big Basin Redwoods State Park and the recent news of 10,000 or more ancient giant sequoia had already made clear the danger that wildfire poses to California's redwood forests, new mapping from Save the Redwoods League shows the increasing risk posed by drought. By overlaying drought data provided by the U.S. Drought Monitor with the ranges of the coast redwood and giant sequoia, we were able to illustrate that huge swaths of these natural treasures are in potentially dangerous dry conditions. 
The immediate concern is that more than 93% of the giant sequoia in the Sierra Nevada are in Exceptional Drought, the most severe category. In the coast redwood range, more than half of the trees are in either Extreme or Exceptional drought. As the League has previously stated, the biggest threat to these forests is the unnatural overgrowth of vegetation due to decades of fire suppression. This overgrowth coupled with precarious dry conditions spells a high risk for coast redwoods and giant sequoia.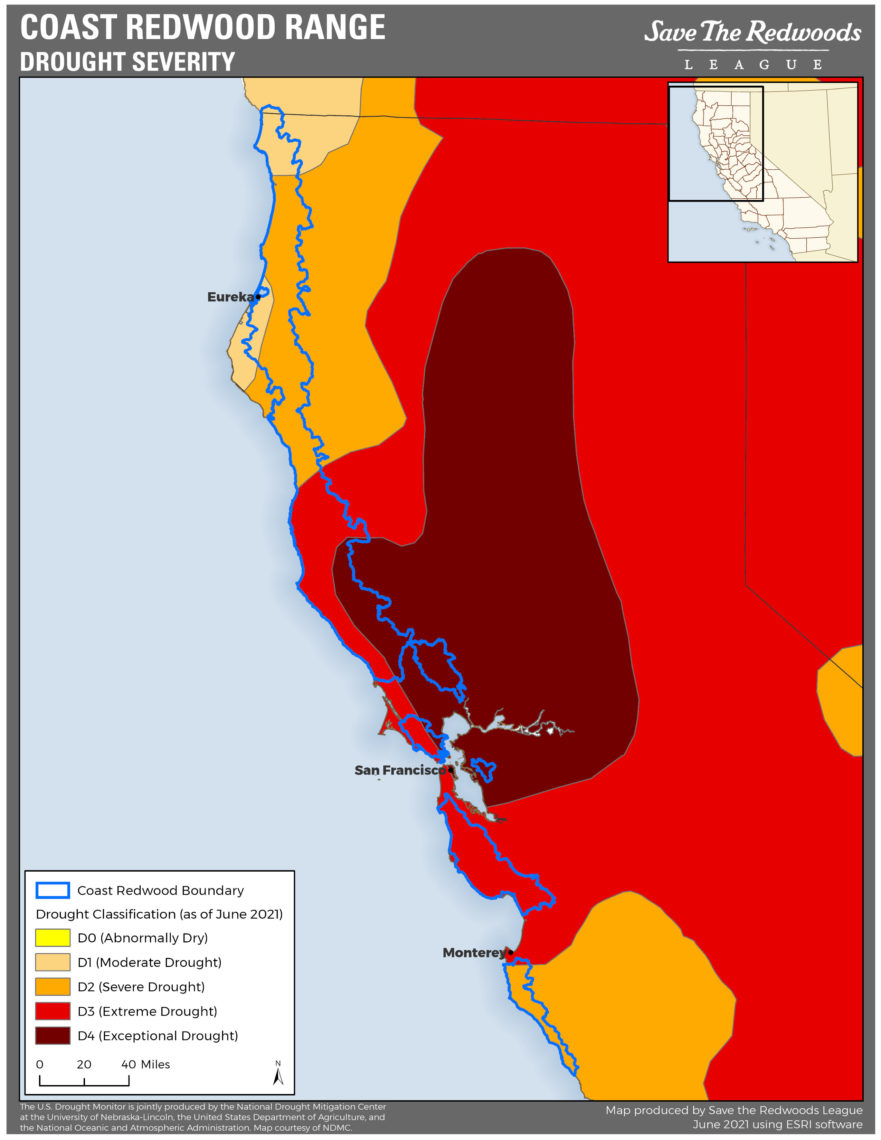 In our prior communications about wildfire, we have focused on the risk posed by the excessive and unnatural growth of vegetation in the forests stemming from decades of fire suppression by forest managers. These new maps highlight another aspect of the story: climate. According to researchers, climate change is deepening the drought, creating drier conditions in the forest, and lengthening the wildfire season.   
While these maps take the focus away from the problem of fuel in the forest, they also point back to forest management. The fight against climate change has a longer arc, so if we want to make an immediate impact, we need to focus attention on what we can control in the short term. And that's fuel. 
The dataset in these maps is from the US Drought Monitor was prepared by jointly by the National Drought Mitigation Center (NDMC) at the University of Nebraska-Lincoln, the National Oceanic and Atmospheric Administration (NOAA), and the U.S. Department of Agriculture (USDA). Looking at observed precipitation, soil moisture, snowpack and a variety of other factors, the US Drought Monitor shares the current drought status in the United States. weekly. The data in these maps is current as of June 1, 2021. 
According to the U.S. Drought monitor, Exceptional Drought will be defined by exceptional and widespread vegetation losses and shortages of water in reservoirs and streams. Extreme drought will likely experience major crop or vegetation losses as well as widespread water shortages.