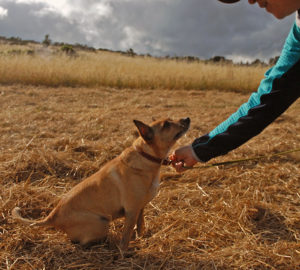 For many of us, dogs are treated less like pets and more like family. It only feels natural to bring our dogs—with their cute, wagging tails and unbounded enthusiasm—along with us as we explore the redwoods this summer. If you need suggestions on where to go, consider these delightful and dog-friendly redwood hikes.
Arcata Community Forest – Humboldt County
Arcata Community Forest contains a pleasing array of stairways, footbridges, and pathways winding through the redwoods. Most surfaces are blanketed with ferns and moss, making the forest look primeval. Arcata Community Forest is California's first municipally owned forest; it's acreage is dedicated to education, sustainable timber harvesting, and, of course, dog-friendly recreation. If you go, League staffers have great trail recommendations for you.
Jackson Demonstration State Forest – Mendocino County
Here is an important distinction: the 50,000-acre Jackson Demonstration State Forest is operated by the state, but it's not a state park. This means dog rules are fairly liberal. As long as they're leashed, dogs are welcome on trails. There are 23 campgrounds, each with first-come first-served sites. The League recommends taking the Forest History Trail—it's an opportunity to learn about redwood ecology and the area's indigenous people.
Baltimore Canyon Open Space Preserve – Marin County
Baltimore Canyon is a verdant and secluded place, right in Marin County—a mere 20 minutes from San Francisco. Bay trees, Douglas fir, and madrones are scattered between second-growth redwoods. It's OK to let your dog off their leash on fire roads, if your dog is under voice control. Dawn Falls, a 25-foot waterfall, is Baltimore Canyon's main attraction.
Pogonip – Santa Cruz County
Pogonip is a 614-acre park only ten minutes away from downtown Santa Cruz. Spring Trail—which starts at the end of Spring Street—follows the park's gently sloping ridgeline. Walk far enough up the trail and you will see sweeping views of Santa Cruz and Monterey Bay. Dogs are welcome on most of Pogonip's 8 miles of trails, excluding trails that cut through ecologically sensitive habitat. (Those areas are marked on this map (external link), and therefore easy to avoid.) Temperate paradise awaits!
As a rule of thumb, state and national parks allow dogs in campgrounds and paved areas—but not on trails. Sometimes, however, there is one workaround: many parks allow dogs on fire roads, which can be scenic and good for hiking. Make a phone call to a park's headquarters and you might learn about a dog-friendly spot that isn't mentioned on the web. (Note: always double-check state park (external link) and national park rules (external link) before visiting.)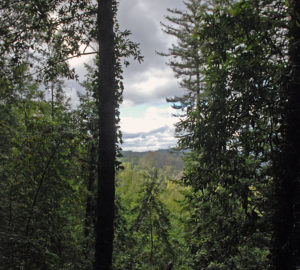 Any place that is not a state or national park is more likely to allow dogs on the trails. With some online sleuthing, you can find county or regional parks that are vast, beautiful, and open to dogs. Online reviews (on websites like Yelp and TripAdvisor) can be informative and inspiring. We're also lucky to live in the age of blogging; both  Hikes Dogs Love (external link) and DogTrekker offer fine recommendations. Basically, we have endless resources at our fingertips—cheers to that!
For a great list of places to take your canine friends, we encourage you to download our FREE Guide to Awesome Dog-Friendly Redwood Hikes.
You can also visit the League's Explore Redwoods trip planning tool to check whether your favorite park allows dogs.
See you out on the trail.