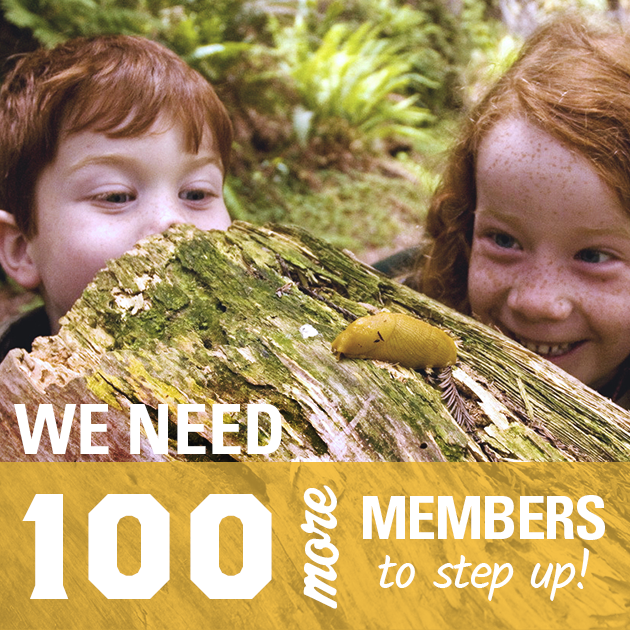 2018 marks a century of our work to protect and restore coast redwoods and giant sequoia. To celebrate a century of this important work, one of our board members, Peggy Light, has offered to give $100 for each of the first 100 Evergreen members.
That's 100 years of establishing parks and reserves and, most importantly, 100 years of inspiring millions of people to connect with the transformative power of our towering, ancient wonders.
We're ready to commit to another 100 years of work for redwoods — but to do that, we count on the support of people who share our love of the forests.
Will you stand with us today to add an extra $100 match to your first gift by becoming an Evergreen Member?
As the person who oversees all our fundraising efforts here at Save the Redwoods, I can tell you that EVERY donor is incredibly valuable – but our Evergreen Members lay deep roots for our work, keeping us steady in the face of any challenge…and making sure we stand ready to take advantage of every opportunity to improve the health of redwoods forests.
Often, restoring the grandeur of the redwoods means purchasing and protecting redwood land. And in California's real estate market, that means moving quickly when it becomes available. Monthly and ongoing commitments mean we know we can count on your support and can invest in the forests of the future.
For the price of a lunch or a couple cups of coffee a week, you can become a critical partner in our work to stand for the redwoods.
Give just $10 per month today — and matching donor Peggy Light will add an extra $100 to your first gift to help fund our important work to protect and restore redwood forests.
THANK YOU so much for helping us protect the forests that remain, so future generations can experience the power we've all felt among our majestic redwoods.