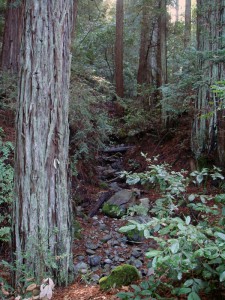 It's fire season again. Last week, the local news reported on a 2,500-acre fire in Napa County, just east of the redwood range and Save the Redwoods League's property near Bothe-Napa State Park. As I've mentioned before in previous blogs, decades of fire suppression have created conditions ripe for catastrophic fires. Our property is no exception.
The League owns approximately 50 acres adjacent to Bothe-Napa State Park, home to a grove of ancient forest and providing an important buffer between the park and the surrounding landscape of vineyards and homes.
The forest on the property is thick with brush, and dense plants – both living and dead – crowd the understory. The terrain is steep and the ground erodible; a fire in this area could not only destroy the standing forest, but would greatly increase the chance of erosion. This poses danger to the stream that runs by just downhill, as it could become clogged with eroded land; erosion would also compromise the forest's ability to regenerate.
This summer, we will be working here to thin the understory and protect the old-growth grove and water resources. There is no time to waste! Our Land Project and Stewardship Manager Jessica Neff will provide an update on the project once work is underway. Stay tuned!
Check out this blog for more on what's going on at this property and how restoration will help.