There is only one place you can enjoy the last remaining "motorcar" train choo-chooing through a forest of giant, ancient redwoods: the Skunk Train in Mendocino County!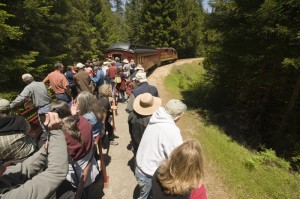 Built as a logging railroad in 1885 for moving giant, felled redwoods to the coast, the entire 40 miles of track were not completed until some 26 years later, in 1911.
The ride is like time traveling into the past; the vibration as the train rumbles down the track, the sound of the train's whistle, and, yes, even the smell of the diesel are highlights. And, it is easy to imagine the bygone history of this once-bustling forest with its mostly-forgotten places like Kibesillah and Pine Grove. And, why is the former Duff River now called Pudding Creek?
The most intriguing part of the ride is the 8 miles of track needed to move forward just 1 mile. The track slithers back and forth down a series of S-shaped curves to the Noyo River, as towering redwoods stand guard on the steep mountainside.
That part of the forest, including its 123 acres of ancient trees, was saved from harvesting by the League in 2010. The Skunk Train's ride through the area is halted for the moment by the fallen rock in one of the two tunnels along the track.
Is there a way to restore that ride through time and the redwood forest?  To also preserve the long-term access along that historic route from Fort Bragg to Willits?
Stay tuned….