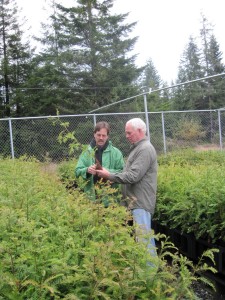 Much has been said about the importance of old-growth redwood forests. Their superlative beauty, their mind-bending longevity, their capacity to sequester carbon, and their ability to inspire peace, awe, and contemplation are all reasons why our commitment to their protection has been sustained and strengthened over the last 95 years.
But as we look to the future of redwood conservation and ensure that the last remaining old growth is permanently saved, we can–and must–turn our attention to bringing back what has been lost; to righting the wrongs of our past.
Rick Sermon shares the dream of starting the long, steady climb back to having a healthy redwood forest across the landscape. He brought that dream to his work every day as superintendent of the Redwood Coast Sector of California State Parks (CSP), and has carried it through into his retirement.
To smooth the canvas for his masterpiece, Rick had one last thing to take care of before retiring: steering Save the Redwoods League's largest land transfer yet. In 2002, his sector accepted the Mill Creek forest from the League. Now we are restoring this logged terrain so that it can once again resemble a majestic old-growth forest with a lush canopy, clear streams and an abundance of wildlife. Mill Creek is now part of Del Norte Coast Redwoods State Park.
After a career of more than 30 years with CSP, Sermon built his dream greenhouse and nursery at Mill Creek, and retired as superintendent. But he has hardly stopped working—he's been supervising the nursery ever since. Thanks to our members' support, the Mill Creek Nursery planted about 9,000 seedlings during the 2009–10 planting season—the beginnings of a future ancient forest. And, local youths and volunteers gain valuable work experience and outdoor experience by growing and caring for the young trees, and helping to recreate the forest that once flourished on the California Coast.
Your support and dedication, like Rick Sermon's, makes all the difference for the redwood forest. Thank you for being a part of the League's efforts to bring back the ancient redwood forest ecosystem and protect it forever. Learn more about our restoration efforts.