Save the Redwoods League's work in preserving the Shady Dell tract on the southern end of the Lost Coast and adjacent to the Usal Redwood Forest, home of the famous candelabra trees, recently earned a special honor. The League was named a "Founder" and a Founder's Tree was dedicated by the Redwood Forest Foundation, Inc. (RFFI).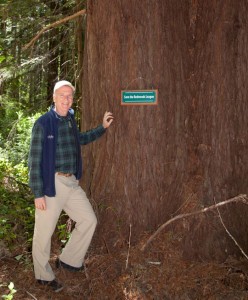 RFFI's highest honor was bestowed on the League and on four others who "played an absolutely crucial and fundamental role in helping the Foundation to achieve its important mission of acquiring and conserving California's redwood forests." Other honorees were: The Conservation Fund, Wildlife Conservation Board, State Coastal Conservancy, and Donald S. Kemp, Ph.D. and Edgar B. Kemp, Jr.
The five Founder's Trees are located near the former town of Kenny, deep in the Usal Redwood Forest.  (Kenny last had a post office in 1924.)
With funding from the State Coastal Conservancy, the League is in the planning stages for a new trail on the Shady Dell property. It will eventually serve as a gateway to 1,000 acres of wilderness lands and extend the trail into the southern end of the Lost Coast by one mile.