Shady Dell loops to open in 2024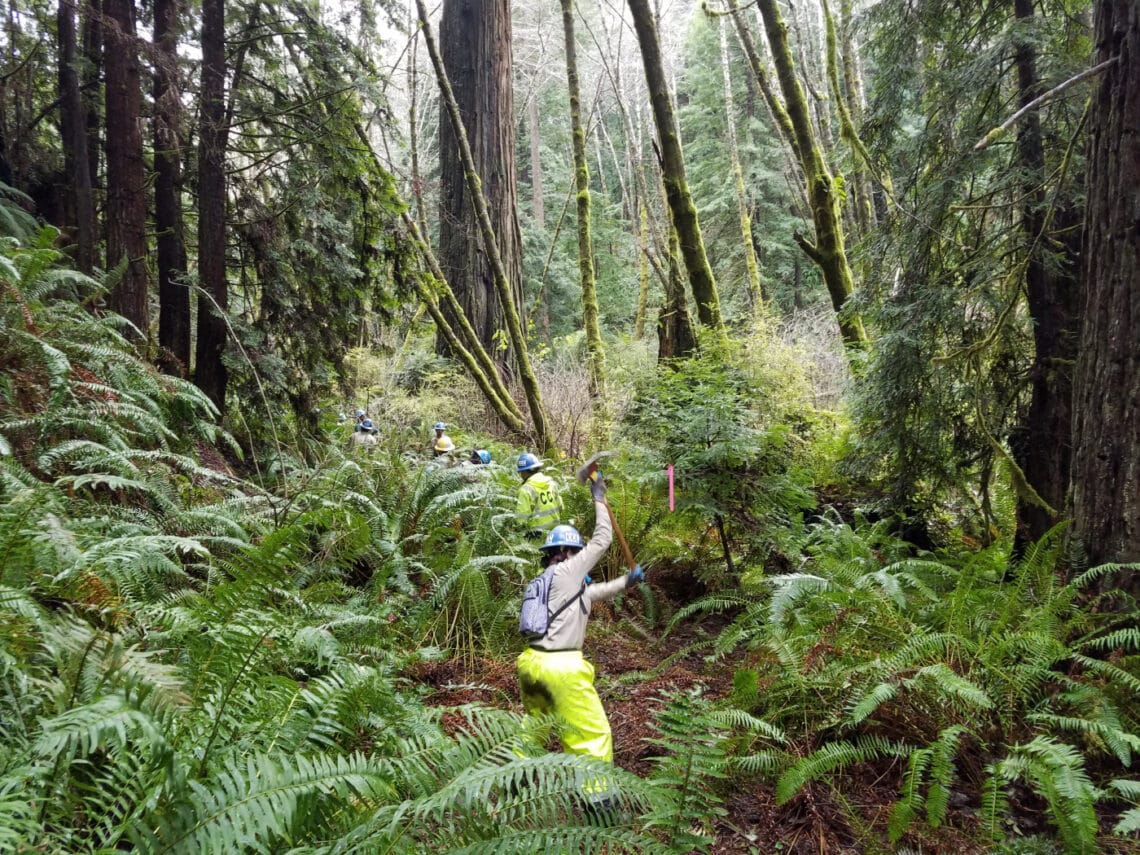 About 225 miles north of San Francisco, the rugged coastline forces California State Route 1 inland, leaving a 60-mile stretch of wilderness called the Lost Coast. Here, along the Pacific Ocean, the famed Lost Coast Trail offers one of the few coastal wilderness hiking experiences in the United States.
The Lost Coast Trail starts at Mattole Beach and connects with the Peter Douglas Trail where it crosses Save the Redwoods League's Shady Dell property at the southern border of Sinkyone Wilderness State Park. The path leads to surreal, ancient redwoods shaped like candelabras by wind and salty air. Recently, the League worked with Mendocino Land Trust, California Conservation Corps, and the American Conservation Experience to complete grading of two marvelous loops that connect to the Peter Douglas Trail in Shady Dell.
"The half-mile Shady Dell Creek Trail will provide hikers access to large, gnarly redwoods and a less strenuous climb through the forest," said Anthony Castaños, the League's land stewardship manager. "The more challenging 3.9-mile Ridgeline Trail will show off vistas of the Lost Coast and Usal Beach."
Usal Beach is a popular destination for locals and visitors, and is the only part of the southern Lost Coast that is accessible to the public by vehicle.
The 957-acre Shady Dell property features 1 mile of coastline with a sandy beach and steep coastal bluffs, as well as creeks and redwood and Douglas-fir forest. These habitats host several sensitive species including northern spotted owls and Chinook and coho salmon.
Work is underway on the two new trails' platforms, stairs, and signage. Our goal is to formally open the loops in summer 2024. The California State Coastal Conservancy provided $413,000 for the trail work through Proposition 84, the Safe Drinking Water, Water Quality and Supply, Flood Control, River and Coastal Protection Bond Act of 2006.
Here's a sneak peek of the trails.