Here at Save the Redwoods League, we are reminded of the power of your donations with each new forest that we conserve or restore. We are perpetually grateful to our generous members for furthering the cause of the redwoods. But did you know that donating money to the League is not the only way to help us fulfill our mission? Here are some other ways that you can contribute. We encourage our supporters to get involved however you can!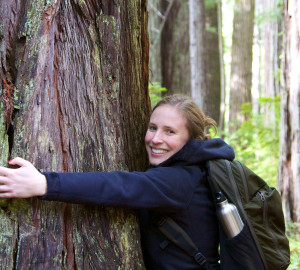 Visit a Redwoods Park
Getting out among the redwoods is not only a fun excursion, but also a sure way to gain a lifelong appreciation for the world's tallest trees. Fostering this appreciation by connecting the public to redwood forests is a central pillar of the League's mission. So take advantage of our redwoods parks by visiting with family and friends! Our Visit the Redwoods page, including the Interactive Redwoods Map, is a good place to start when choosing and planning a trip to a redwoods park. The Family Guide to the Coast Redwoods and Family Guide to the Giant Sequoias are also useful resources. Some Giant Thoughts blog posts, like Top 3 Bay Area Redwood Parks You've Never Heard Of and Magnificent Redwood Parks Close to Home, have even more insider information.
Talk to Your Friends and Family
Spread the word about redwoods and the work we do at the League! Telling others about the League and the trees that we protect helps broaden the community of redwoods stewards. Our interesting history is worth learning and sharing.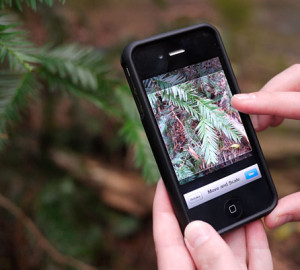 Volunteer for Redwoods Parks
Volunteers have contributed invaluable service to California State Parks, the League's longtime partner, for over 100 years. Especially in the wake of recent budget tightening, the parks cannot operate fully without their volunteers. There are countless and varied opportunities to help at any of the redwoods parks in the state parks system. Opportunities include being a campground host, operating a visitor center, conducting tours and building trails. The parks volunteer page and volunteer brochure provide more information. You can also call (916) 653-9069 or email [email protected] with your name and address to receive applications and additional information. Volunteer opportunities are also available at national parks, including Muir Woods, Redwood National and State Parks, and Sequoia National Park.
Share our Posts on Social Media
Even though redwoods live for thousands of years and have existed as a species for millions, they never go out of style. Show off to your friends and followers on social media by spreading the word about the League! You can do this by sharing our posts and inviting your friends to like or follow us on social media. Our Facebook page is a good place to start. You can access our other social media outlets here.
No matter how big or small, thank you for all that you do for the redwoods!