On the Santa Cruz coast, surrounding the picturesque town of Davenport, is a sweeping expanse of native coastal prairie and redwood forest. This beautiful landscape is special not only for what it is, a local historical and ecological treasure, but for what it could become — our next national monument.
In 2015, the campaign to create a Cotoni-Coast Dairies National Monument was officially kicked off with a local event attended by hundreds of supportive local residents. The focus of the campaign is the 5,800-acre Coast Dairies property, so named because it was owned for years by the Coast Dairies & Land Company. The dairy has been gone for generations, but it played a big role in the history and development of the area. More recently, the land was conserved through a transaction negotiated by Save the Redwoods League, eventually acquired by the Trust for Public Land and donated to the Bureau of Land Management (BLM). This property is adjacent to San Vicente Redwoods, where the League negotiated and now holds a conservation easement.
The national monument designation would provide the Coast Dairies land with additional protections that could never be changed by future administrations or congressional action. The redwood forest, wildlife habitat, critical drinking water source and scenic splendor here would be protected forever and managed with care. Recreational opportunities and amenities like hiking trails and parking could be provided, and the national recognition would bring visitors from all over to experience this local gem. Learn more about the benefits of the national monument designation.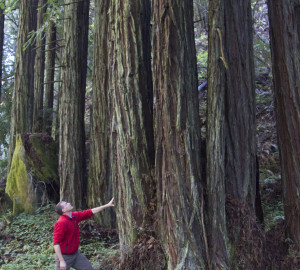 The Cotoni Coast Dairies National Monument would be a gateway for a global audience to the majestic redwoods of California's coast; kindling a love and appreciation for the unique Santa Cruz coastal landscape in locals and visitors alike for generations to come.
Community efforts are underway to help President Obama and Congress recognize the significance of this special place and designate it a national monument. You can sign the petition and learn more at SantaCruzRedwoods.org.
Let's keep in touch on Twitter! Follow me at @SamH4Redwoods for tweets about trees, trails and other truths.