Tomorrow is Thanksgiving, and I sure have a lot to be grateful for this year.  Our work at the League has never been more diverse or more important; and more than anything, I am thankful to have the opportunity to play a small part in protecting these incredible forests.
I am thankful that the sulfur springs in Peters Creek will always run white beneath the ancient forest.  The League's work in the Santa Cruz Mountains means that the forests of the Peters Creek canyon will forever shade the stream's cool waters.
I am thankful for our parks partners, working to safeguard our precious forests despite continual budget cuts. Their dedication to the public trust is to be celebrated and we are proud to support them in their vital work.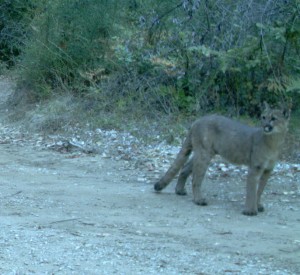 I am thankful that mountain lions still roam CEMEX Redwoods (and so graciously allow themselves to be photographed!).  Even if we never see them, just knowing there are large carnivores out there makes the forest a much more exciting place, don't you think?
I am thankful that our partners in the forest industry have realized the value of forests beyond just places to harvest wood.  Their good stewardship is essential to a flourishing redwood landscape and we support their continued efforts to find a balance between economic and ecological returns.
I am thankful that it seems as though every time we look, we find a new superlative redwood (RCCI scientists recently discovered the oldest known redwood – 2,520 years!). Is there no end to what these amazing trees can do?
I am thankful that we have taken the first steps to restore the site of the old sawmill at the gateway to Redwood National and State Parks.
I am thankful that we now know wandering salamanders may spend their whole lives in a single ancient tree.  How many other wonders are still awaiting discovery?
I am thankful that we have helped bring hundreds of children to the redwoods to experience their majesty and peace for the first time.  In a time in which digital technology and urban landscapes keep our children far from nature, building a connection to the redwoods is essential in creating the next generation of stewards.
And finally, I am thankful that people from all over the world care about the redwoods enough to give us their support.  Thank you all for your generosity, your time, your love and compassion for the redwoods and the creatures that call them home.