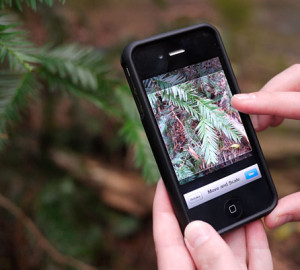 For many of us, time on the trail is a treasured respite from the constant connectedness of our day-to-day lives; a chance to get away from technology and be unreachable for a while. But there are many who see that there is a place for technology in how we experience wild spaces, and that in some cases, staying "connected" while in nature can be a terrific part of engaging with the outdoors. As a father of teenagers, I'm beginning to come around.
To be clear, I'm not talking about answering phone calls, texts or emails while on the trail. I'm talking about those elements of staying connected that relate directly to the outdoor experience: technology that can enhance your understanding of the place you are exploring, add interpretive content to your adventure, and even allow you to contribute to the science of conservation and the effort to protect special places.
All of us, armed with just a smartphone and our powers of observation, can make a tangible difference on our next hike. We can help scientists monitor and understand the condition of our beloved natural places and track how they are responding to a changing climate. We can provide real, valuable data that gives a solid boost to how much scientists can learn, and how quickly.
Many of us are already helping out, and that data is contributing heavily to research.
If you think you might be near the redwood range, you can easily participate in research by finding a redwood tree, banana slug or other plant or animal in the redwood forest. Use the free iNaturalist app (for iPhone and Android) and select the Redwood Watch Project to submit a photo of the plant or animal. It's that simple to contribute important data.
And in the Bay Area, you can get involved with the California Phenology Project, tracking seasonal changes (closely linked to climate) in plants and animals.
Elsewhere, a quick internet search for community science programs will turn up lots of options. Contact your favorite local conservation organization or land trust for suggestions. Universities, nonprofits, parks departments and other agencies have long been calling on all of us who love the outdoors to engage in the scientific process and provide our input, and now it's both easier and more important than ever.
Community science programs are great for both kids and adults. They make the outdoors and science even more fun and accessible, and help open up a whole new world of observation in nature. So the next time you are recharging your own battery on your favorite trail, try seeing how a little technology can enhance that experience and engage you even more deeply in the conservation process.