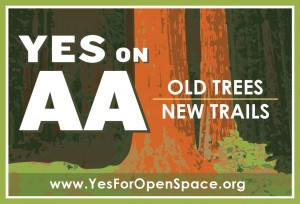 On June 3, 2014, voters can vote "Yes" on Measure AA, a bond measure for the Midpeninsula Regional Open Space District (Midpen) that will provide funding to ensure our environment is protected for future generations. Measure AA will protect old-growth redwood forests, breathtaking coastline, endangered wildlife and trails ideal for hikes and exploration.
Your vote in favor of the "Yes for Open Space" Measure AA will:
Preserve some of the last ancient coastal redwoods and the San Mateo coastline from over-development.
Protect the highest-priority habitat lands that are critical to maintaining the region's rich diversity of wildlife.
Protect vital creeks and streams to keep our drinking water clean and conserve our precious water resources , which are especially important in drought conditions.
Maintain the highest level of care for our most beloved natural lands, including reducing fire risks during dry conditions.
Midpen has been working in our community for more than 40 years to preserve the redwood forests, water quality, wildlife, recreational opportunities and scenic beauty of the region. It has preserved more than 62,000 acres and manages 26 open space preserves in San Mateo and western Santa Clara Counties.
Save the Redwood League strongly supports Measure AA and the work of Midpen, which shares our mission to conserve and restore our redwood forests.
See the list of the 25 projects that will benefit from AA and view more information about Measure AA on Midpen's website.
Please join me and vote Yes on Measure AA.
—     Andy Vought
Program Director, Portola and Castle Rock Foundation and member of the Board of Directors, Save the Redwoods League