"Transient Camp Causes Fire in Old-Growth Redwood Tree," reads the headline posted by the City of Arcata.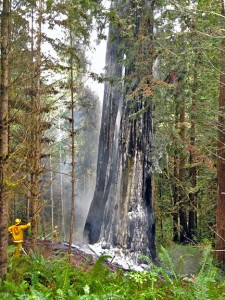 The fire did not damage just any old redwood.  It burned (and is apparently still burning) in 'Treebeard,' a redwood estimated to be 500-800 years old by Mark Andre, Environmental Services Director for the City of Arcata.
For those readers not steeped in Lord of the Rings lore, Treebeard is the eldest of the Ents, a tree-like character in Tolkien's Middle-earth novels.  The fictional Treebeard is said to have lived in the ancient Forest of Fangorn, stood fourteen feet tall and had a tree-like appearance.
The Treebeard redwood burning in the Arcata Community Forest is some fifteen feet in diameter and is much taller than its fictional counterpart.  It has also survived other fires.  Fires in the redwood forest can be beneficial and redwoods have evolved, over millions of years, to live with this disturbance.  For example, redwoods have developed thick bark that resists igniting during fires, as well as the ability to sprout from the base of the tree.
Fires also clear the understory of litter and vegetation, so that tree seedlings, including redwoods, can grow with less competition from other plants.  In addition, occasional fires consume fuel that reduces the likelihood of a 'hot' fire.  A hot forest fire can severely damage a forest, while 'cool' fires burn but don't decimate a forest.
Another benefit of some redwood fires is that they create habitat for redwood forest inhabitants.  For example, fire can create a 'goose pen', a hollowed-out area at the base of a redwood that is still thriving above. These openings are so large that, in earlier days, settlers would corral their chickens and geese in them, thus giving the goose pens their name.
Fires inside the trunk can smolder for months, sometimes hollowing out a room with a ceiling of 75 feet or more.  These burns leave scars but don't kill the tree as long as enough of the cambium layer (the growing part of the tree) is left intact.  We will not know for some time, perhaps years, whether this fire will kill Treebeard.  We will be watching, along with our friends in Arcata and with Ent-lovers from all over the world.
Learn more about these amazing trees and check out our Fun Facts!