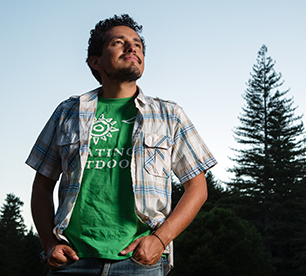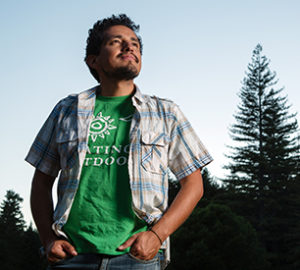 Outdoor adventure is often characterized as a highly idiosyncratic pursuit, one that engages a single individual with the challenges of nature. That's all well and good, but José González, the founding Executive Director of Latino Outdoors, promotes another perspective: connecting communities and families with the power and beauty of the planet's wild places.
"Our goal is to inform and empower the next generation of stewards," González says. "By helping people discover and explore the outdoors, by giving them the opportunity to share their experiences and develop powerful narratives, we are creating advocates for the protection and restoration of our natural spaces."
Latino Outdoors (external link) is open to people of all races and ethnicities, but González and his teammates are especially keen on providing outdoor access for the Latino community. Simple social justice is one reason for this emphasis, of course. Many Latinos live in highly urbanized areas and have little opportunity to participate in outdoor activities.
"But our irreplaceable and threatened wild areas need the Latino community as much as Latinos need the joy and sense of transcendence that result from connecting with nature," González says. "Latinos are the fastest growing demographic in the country, but we're also the most underrepresented in environmental, conservation, and outdoor recreation groups. If the conservation movement is going to progress, it must engage with the Latino community."
González says conservation organizations would be well advised to take a page from corporate marketing playbooks.
"Companies that sell things have been very adept at appealing to Latino consumers," González says. "Proctor & Gamble, for example, has been investing heavily and successfully in the Latino market. Conservation groups can learn from these businesses. Investing in the Latino community, identifying with Latino interests, culture, and priorities, connecting to Latino families, can pay huge dividends. We support things we believe in with our time and our money. They just have to reach out to us."
González says that working with Save the Redwoods League has been particularly gratifying due to both the commitment of the League's staffers and the organization's core mission. The initial support came from League sponsorship of some Latino Outdoors' events and sharing their stories — it begins a conversation with each other and explore what may work and can be developed with common interest.
"I'm also inspired by the message that's implicit in the redwoods themselves," González says. "They exist on a time scale that's at a complete remove from our own. They remind me that this work takes patience, trust, and most of all, time. They compel me to endure, to be patient, and to keep working. In the long run, we can make good things happen — we can grow with the presence, strength, and beauty of a redwood."