Laws advance prescribed burning and wildfire strategy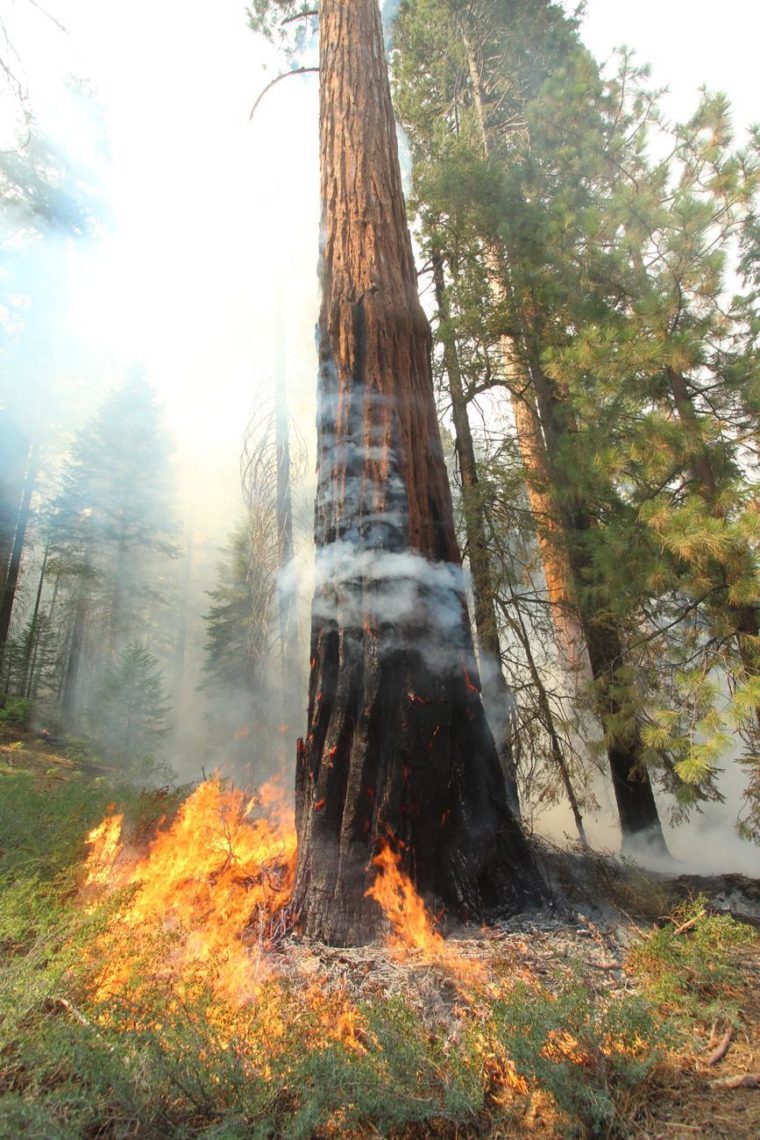 With memories of the record-breaking 2020 wildfires still fresh in their minds, California legislators opened their 2021 session with a flurry of bills on home hardening, fire recovery, forest management, and related issues. As fires burned in 2021, many of these bills were delivered to Gov. Gavin Newsom's desk for his signature. He signed two bills that the League supported.
Prescribed and cultural burning
Assembly Bill 642 further expands the use of prescribed burning, in part by growing and incorporating cultural burning by tribal communities. Save the Redwoods League participated in the drafting of this bill, authored by Assembly Member Laura Friedman, and enthusiastically supported its passage.
In the centuries before the 1800s, forest fires were more common and less destructive across California. They started naturally by lightning or were set by Indigenous populations to manage the landscape. With the arrival of Euro-Americans in the late 19th century, Indigenous people were forced from their ancestral homes and lightning-ignited fires were immediately suppressed out of fear and to protect timber profits. The result has been an unnatural buildup of live vegetation and woody debris in our forests that, when combined with other factors such as climate change, is driving the severe fires we've seen in the last few years.
Conservation scientists and land managers are increasingly realizing that a regimen of prescribed burning—the practice of using smaller, controlled fires to eliminate excessive fuel—is an important forest management tool. Moreover, experts are increasingly looking to tribal practitioners who have on-the-ground experience. Senate Bill 1260, passed in 2018, called for an increase in prescribed burning, but progress has been slow.
AB 642 streamlines the permitting system for burning permits and creates a prescribed burning training center to increase the number of skilled practitioners. It would require the California Department of Forestry and Fire Protection (CAL FIRE) to work more closely with Native American tribes, tribal organizations, and cultural practitioners, in part by creating a Cultural Burning Liaison within the department.
A wildfire plan
Following the most extensive wildfire season in California history in 2020, the state drafted a Wildfire and Forest Resilience Action Plan for addressing future crises. Senate Bill 456 , which passed out of the Legislature by wide margins, encapsulates this plan into official state policy.
Central to this plan is a ramped-up effort to meet our federal/state target of treating 1 million acres annually by 2025 and facilitate fire recovery in hard-hit communities. This will mean expanded work crews, grant programs, prescribed burning, forest stewardship, and restoration in burned areas.
Also included in the plan:
Creation of a Prescribed Fire Training Center to provide training opportunities for prescribed burn practitioners and focus training efforts on western ecosystems.
Reforesting areas burned by catastrophic fire.
Supporting communities, neighborhoods, and residents in increasing their resilience to wildfire through home hardening and fuel breaks.
Improving forest management regulations to streamline the permitting process for forest stewardship.
Improving electricity grid resilience.
The California Forest Management Task Force, which drafted the Forest Resilience Action Plan, was established in 2018 to introduce a more holistic, integrated approach toward effective forest management. The Task Force's purpose has been to develop a framework for establishing healthy and resilient forests that can withstand and adapt to wildfire, drought, and a changing climate.
WILDFIRE LEGISLATION
Save the Redwoods League supported California bills to reduce wildfire impacts.
Assembly Bill 642 expands prescribed burning, partly by growing and incorporating cultural burning by tribal communities.
Senate Bill 456 codifies a broad statewide wildfire preparedness and response plan that includes prescribed burning, forest stewardship, and restoration in burned areas.
Read more about redwoods and fire.