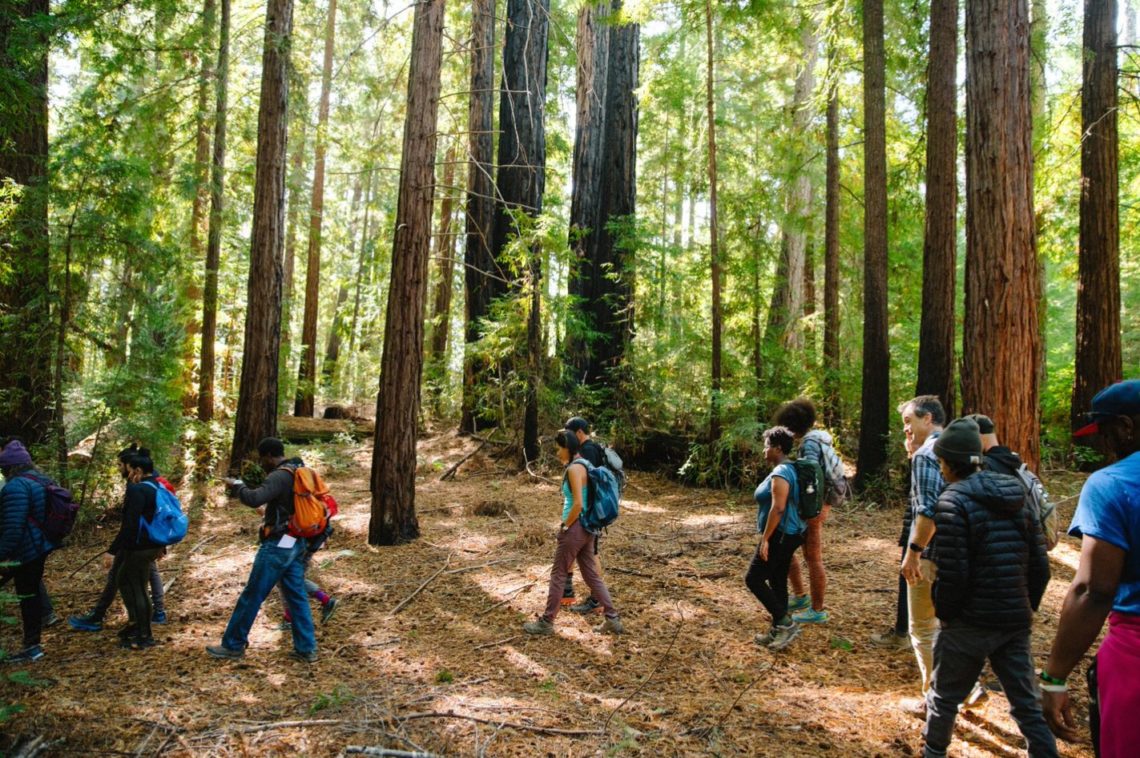 Dear Save the Redwoods League Friends,
It feels like we've lived a lifetime this year. From the isolation and anxiety caused by the pandemic, to the racial injustice and widespread civil rights demonstrations across the country, to the devastation and heartbreaking loss from the wildfires, to the vitriol and tribalism of the election, we have been through so much in just the past several months.
Even redwoods—our most resilient natural treasures that we have turned to again and again through these trying times—have been deeply impacted. Severe unprecedented fires in the Sierra Nevada killed multiple giant sequoia, and the lightning fires on the coast burned redwood park infrastructure and adjacent forest communities to the ground. Redwood forests have paid a severe price for the poor choices in our past.
What will we learn as we assess the full extent of the damage and begin to link cause and effect? How will we prioritize the rebuilding of our civic discourse, our public health, our natural systems? How will we change our behavior to strive for different outcomes? How will we gather our resolve for restoring our connections to one another and healing the natural world that sustains us?
Collectively, we have a fundamental responsibility to focus on these questions and think carefully about our part in the answers. How has past forest management contributed to our current crisis? How can we restore the resilience that we have lost in our forests and the communities that need them? What natural systems can be restored to build resilience and reset the balance of our ecosystems? What role has our own history played in allowing a culture of inequity and imbalance?
Redwood forests and our vision to protect, restore, and connect people to them are critical ingredients in our collective recovery. We need our redwood forests to be healthy, protected, and growing to sequester carbon, to provide biodiversity, to regain fire resilience, and to inspire all of us again with the beauty and power of nature. And we need to make substantial and challenging investments now to realize our vision.
We know what needs to be done. We have defined a clear path toward protecting more of our redwood forests, restoring resilience in the young redwoods to face the new normal of our future, and rebuilding our parks for new generations of visitors. This moment of crisis serves as a clarion call to invest in this vision and accelerate the pace and scale of our work.
This renewed urgency for our vision comes as we are making an organization-wide commitment to elevating the values of diversity, equity, and inclusion in our culture and conservation mission.
In this edition, we strive to depict a more holistic story of redwoods culture—one in which we all stand together to protect and restore these forests to which we are connected. As we reckon with our founders' historical connection with the eugenics movement, we amplify the perspectives of Indigenous peoples from the  InterTribal Sinkyone Wilderness Council  and the Yurok Tribe. We illuminate the faces and voices of some of our essential workers, the stewards of the north coast redwood forests, where the League is helping to bolster the local economy with durable green jobs. We discuss our opportunities to reimagine the stewardship of a more climate and fire resilient California. And we present our work to develop and rebuild redwood parks to be not only ecologically sound, but also more welcoming to our full community.
We will never be the same after this year. I invite you to reflect on how this transformation, painful as it may be, can be restorative for us all. We put our hopes and deepest faith in the healing power of nature so that we can come out of these crises ready to create a better future for our forests and our people, together.
Thank you, friends, for your support and for the inspiration you bring to us at the League. I hope you enjoy this edition.

Sam Hodder
President and Chief Executive Officer
Save the Redwoods League
---
This feature appears in the beautiful printed edition of Redwoods magazine, a showcase of redwoods conservation stories by leading scientists and writers, as well as breathtaking photos, answers to readers' questions, and how you can help the forest.
Join our thousands of members today for only $25, and you'll get future editions of our Redwoods magazine.