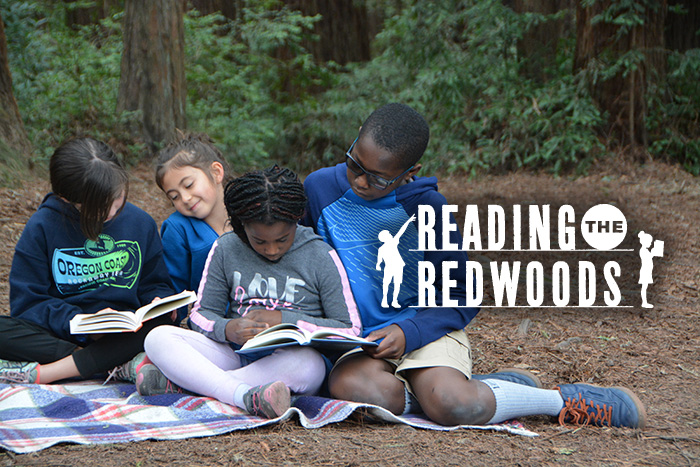 Imagine a world where more kids learned a deep love and respect for natural wonders — wonders like our magnificent redwoods. Those kids would then grow into adults who protect and care for our precious forests. And they would, in turn, introduce their kids to the magic of the redwoods, helping to ensure these giants are preserved in perpetuity.
Thanks to Save the Redwoods League and its Reading the Redwoods contest, this is happening today!
"My daughter learned more about redwood trees and spoke about it to her class. It was nice to do this together with my daughter, and it was not a school requirement. We could just learn together for the sake of learning." ~ Reading the Redwoods participant
Across 34 states, 880 children participated in the inaugural Reading the Redwoods contest, the first of its kind to encourage reading about these iconic national treasures. The free online contest ran for eight weeks, from March 10 to May 10, 2018. Through books, stories, and activities, Reading the Redwoods helped to foster a love for nature, forests, and especially redwoods.
To all who participated, I say thank you! Thank you for sharing the magic of the redwoods with your children, grandchildren, nieces, nephews, students, neighbors, and friends.
And to the prize winners, I say congratulations! Reading is its own reward — but this contest also included exciting prizes like a trip to the old-growth redwoods, a handsome new bike, and gear to use to enjoy the great outdoors.
WINNERS
The winners of the inaugural Reading the Redwoods contest are:
Grand Prize!
Diego, Emilio, and Elianna from California will enjoy a 3-day, 2-night stay in historic Eureka, transportation, and activities thanks to the Eureka-Humboldt Visitors Bureau.
First Prize!
Justin from Wisconsin will explore the trails with a Riprock 24 children's bike generously donated by Specialized.
Eight Weekly Prize Winners
Each week we gave away backpacks from REI Co-op, Z Bars from Clif Bar, and books by award-winning authors to:
Solomon and his daughter Mirabelle
Marilyn and her grandson Sabian
Rhiya and her son Viraaj
Alfredo and his nephew Noah
Grace and her son Layton
Alicia and her daughter Abby
Cristina and her daughter Katie
Catherine and her daughter Cleo
"My son is an ardent environmentalist and extremely passionate about planet conservation and everything around it. Kudos to you and your team for the tremendous work you all are doing to save these silent witnesses of ancient geographical passage of time." ~ Reading the Redwoods participant
Thanks to an exciting partnership with the California Library Association, libraries were one of the most common ways that participants learned about the contest. Libraries throughout the state promoted the redwoods through programs, events, and outreach.
Through this contest, Save the Redwoods League is bringing the redwoods to more children, regardless of where they live, and connecting families to forests and nature through reading and stories. Thank you to everyone who participated and contributed to its success!