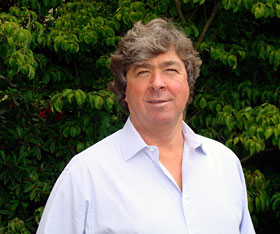 After earning bachelor's and master's degrees in Earth sciences at Stanford University, Justin Faggioli spent three years working as a geologist, primarily on projects in Alaska. His job took him to some of the most remote areas of the state, most of the time in a helicopter. In addition to the geologic work, Justin was able to enjoy the beautiful flora, amazing fauna and spectacular scenery.
"It was hard to top that," Faggioli said. But he knew he wanted to settle in California and went on to earn an MBA at Harvard Business School.
Since then, Faggioli has branched out in several directions. He has held high-level positions at numerous businesses, including Niman Ranch, Ravenswood Winery, and E. D. Bullard Company, a safety equipment manufacturer. He also manages family ranches and vineyards in Sonoma and Tulare counties. He's been a councilmember and mayor of his hometown, Belvedere, near San Francisco, and President of The Thacher School in Ojai, California. His wife, Sandra Donnell, is a former Director of the League and a current Councillor.
Different as these jobs are, they all require strategic thinking — a talent Faggioli is now sharing as a Chair of the League's Board of Directors.
"We're working to ensure that 100 years from now the League is going to be vital," Faggioli said. "The mission is critical, especially the current agenda, which is to move the redwood forest from being museum pieces to ecosystems of the future. If these trees are to have a vibrant future, we need to protect the rivers and forests around them."
"At the same time, we need to come up with creative solutions to protect the last few chunks of old-growth redwood forests," Faggioli said. "If a timber company owns those trees, for example, we need to be able to present options that would give it the same return without cutting the trees down."
Faggioli's parents introduced him to redwoods as a child. "We drove up into the coast redwoods, staying at little lodges," he said. "It was so magical."
Today redwoods are still a balm for his soul. His favorite refuge lies in is Sequoia National Park, where the League has one of its research plots. "It's a serene and beautiful place," he said.