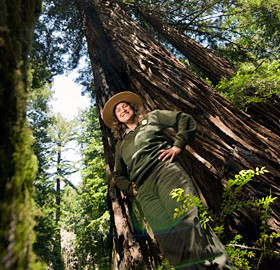 Long before Mia Monroe began working as a ranger at Muir Woods National Monument 30 years ago, her family tree intertwined with the Save the Redwoods League. In 1945, the League hosted an international group of delegates tasked with creating the United Nations.
"The US government decided to hold a gathering at Muir Woods because the trees are like pillars of peace, and the language of nature is universal," said Monroe, adding proudly, "My family ran the press that printed the UN Charter."
Now, as Muir Woods' Site Supervisor, she continues the relationship. She teamed with the League to host special events in 1995 for the UN's 50th anniversary celebrations.
"During that time, we talked about the importance of making the park accessible to an urban audience that may never have had a connection to nature and had no clue what a redwood was. We agreed that one of our greatest priorities should be educating our young." The League began providing transportation so that today, thousands of children have been able to visit Muir Woods.
The League also contributed to the creation of "A Quest at Muir Woods," a poetic treasure hunt that allows young visitors to have fun while learning about the giant trees. "We're hoping that activities like the Quest will foster a lifetime connection to redwoods," Monroe said.
In 2008, as Muir Woods celebrated its 100th anniversary, the League hosted parties, underwrote publications for events, and also helped rededicate Cathedral Grove as a place of peace and quiet.
"That partnership has helped people pause and listen more deeply," said Monroe, noting that it was the first national park in the country to privilege quiet in this way. When the park is quieter, "we can still have a lot of people who have a great experience," Monroe said.
"I feel strongly the force of life here in the forest, and hopeful because these trees have been on Earth since time immemorial," Monroe said. "The trees profoundly influence my sense of who I am, my place in the world. With every breath I take, I feel like I'm taking their peaceful spirit into me. And that, in turn, inspires my work."