Imagine this: There's an amazing neighborhood farmers' market that's a safe and easy walk from your house. You shop for fresh local produce there every week, until one day, the market is relocated to a spot that's just out of reasonable walking distance. To top it off, there's now a six-lane freeway that you'd have to cross to get to it. Your habitat has just been fragmented.
Subdivision and commercial development break up contiguous habitat into isolated pieces, creating islands (with limited resources) on which many species are functionally trapped. This is called habitat fragmentation, and it's long been known to lead to loss of biodiversity and even extinction in those islands. What's new, however, are the findings of a recently published 18-year ecological study: connecting those pieces via habitat corridors can not only stave off biodiversity loss, but also encourage biodiversity gain that compounds over time.
The study was conducted in an experimental landscape in South Carolina in which researchers restored patches of native savannah and connected some of them via habitat corridors, which are strips of restored or undeveloped land that connect isolated patches of habitat. The researchers found that in the connected plots , rates of plant extinction decreased by 2 percent per year, and rates of plant colonization (new plant species coming in) increased by 5 percent per year over the duration of the study. And the effects compound over time—plant biodiversity has increased by 14 percent over 18 years and is still going up.
These results align with conservation priorities outlined in the Save the Redwoods League State of Redwoods Conservation report that was published last year. We have several major projects focused on establishing habitat connectivity. One example: Between 2000 and 2010, we protected 11,000 acres in the Corridor from the Redwoods to the Sea region , which is an area of protected land extending from the Lost Coast in Humboldt County to the ancient redwood forests in Humboldt Redwoods State Park, thereby buffering the largest contiguous stretch of old-growth redwood forest. This is important habitat for imperiled species, including the northern spotted owl, marbled murrelet, Humboldt marten, and coho and Chinook salmon, red tree vole, and Pacific fisher.
According to the League's Land Stewardship Manager Anthony Castaños, securing the Corridor from the Redwoods to the Sea was important to the League because "in addition to our primary mission of protecting old-growth redwoods, we also want to buffer and connect these areas of high conservation value because that supports the health of the greater watershed while providing wildlife with corridors for their migration and mating patterns."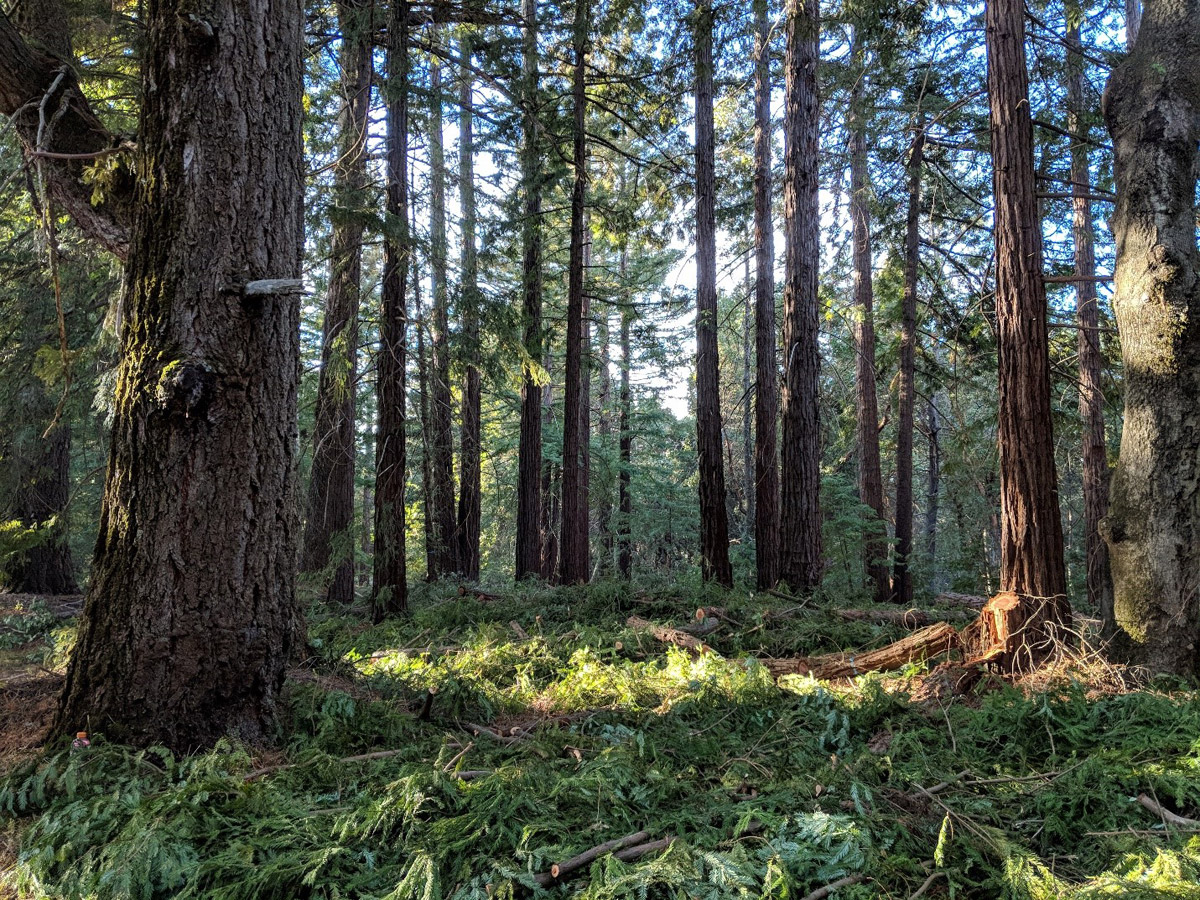 Over in the Santa Cruz Mountains, we protected the 8,532-acre San Vicente Redwoods in partnership with Peninsula Open Space Trust, Sempervirens Fund, Land Trust of Santa Cruz County, and The Nature Conservancy in 2011. The largest privately protected land in the county, this keystone property is home to 90 ancient redwoods, several mountain lion nurseries, and a plethora of rare, threatened, and endangered species such as the California red-legged frog.  Perhaps more importantly, San Vicente's 6-mile-long and 3-mile-wide forest connects 27,500 acres of contiguous protected woodland in the Santa Cruz Mountains. "As the conservation easement holder, Save the Redwoods League is committed to an ongoing restoration effort that will continue to improve the resource value of the property and ensure the presence of safe and suitable habitat for a range of sensitive species," Castaños says.
Habitat connectivity is just one of many factors we consider when planning projects, but the League's Director of Science Kristen Shive says, "When we evaluate properties, we do consider adjacency to protected land to try to improve connectivity." Like the results of the recent corridor study showed, the importance of connectivity in our conservation planning is "based on the idea that you need source populations from old-growth forests to repopulate second-growth stands that have been degraded," Shive says. Connectivity also helps improve genetic diversity because it allows species in otherwise isolated populations to mix.
In the current era of mass biodiversity loss and increasing habitat fragmentation, this story is a reason to be hopeful. While there is never just one conservation solution, improving habitat connectivity has definite and long-term benefits and is worthy of a place in the conservation toolbox.