In honor of Martin Luther King, Jr. Day, the National Park Service offered free admission to its parks on Monday. I hope you were able to take advantage, because visiting a park — whether national, state, or neighborhood — is a terrific way to commemorate the legacy of Dr. King! Our parks are beautiful, welcoming gathering places. A recent visit to Redwood Regional Park served as a great example of how open space brings us together.
I was at the East Bay park, one of my favorites, a few days ago. When I arrived, the parking lot was packed, but the park didn't feel crowded at all — quite the opposite. People of all ages and abilities were gathered together among the redwoods, and there was plenty of room for all of us. I observed runners and the wheelchair bound, parents and children, groups of friends, solo hikers, bikers and dog walkers. I witnessed a great diversity of uses and a beautiful cross-section of the community.
I appreciate the redwoods in countless ways, but that day I was awed by the forest's seemingly boundless capacity to contain us and provide for us. People from all walks of life come to Redwood Regional Park for all kinds of reasons, and this beautiful place, just a stone's throw from a major urban center, is able to offer whatever it is we're seeking: whether solitude, companionship, a respite from the busy city, invigorating exercise, relaxation, inspiration, peace, fun, or a sense of community and belonging.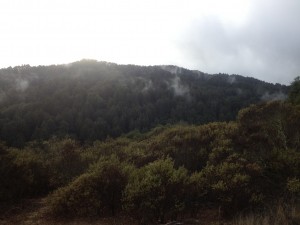 Martin Luther King, Jr. Day is an opportunity for us to think about how people come together as friends, neighbors and loved ones. For me, a great way to celebrate and honor King's legacy is in a park, a place set aside for everyone to enjoy. Our parks —many of which are free every day — were created with the intention of providing equal access to beautiful, special places that confer their benefits to all who enter.
Did anyone take advantage of the free parks day on January 20th? Let me know where you went!