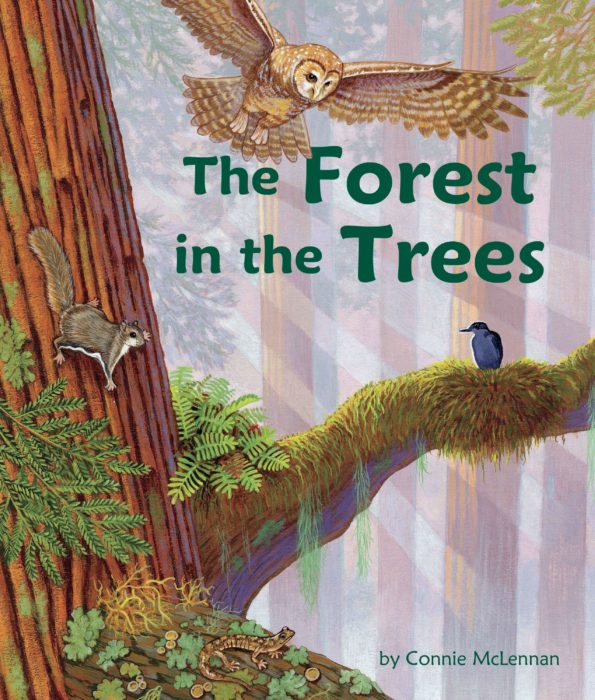 I have always lived within a hundred miles of the redwoods—though in northern California, 100 miles "as the crow flies" often means 200 miles of driving, some on tortuous coastal or mountain roads. I grew up in Yreka, California, where my dad, a veterinarian and naturalist, seemed to know all the north state's extraordinary wild places. One was Jedediah Smith Redwood State Park, where he introduced me to the redwoods as a child. At the time, no one suspected the existence of the hidden forest of plants and animals inhabiting the vast canopy overhead.
In 2005, I was illustrating a picture book about the tropical rainforest when Richard Preston's mesmerizing New Yorker story Climbing the Redwoods transformed my perception of these iconic wonders. I immediately envisioned a companion book about the recently-discovered "lost world" of the temperate rainforest canopy. Then the next illustration assignment arrived, thirteen years passed, and other children's authors were similarly inspired. Last year I wondered if there was still a place for a book with the illustrations and information I imagined, focused entirely on the canopy.
After receiving my first draft of The Forest in the Trees, the publisher suggested a cumulative House-That-Jack-Built-style rhyme. This meant revising the verse in a way that not only presents interesting visuals, but also relates each element to the next in a logical progression: from trees, shrubs, and fern mats "soggy and heavy" to sow bugs and pill bugs (the only crustaceans that live on land) and Humboldt flying squirrels. As in my earlier rainforest book, sidebars add context and reader-friendly scientific information. At the sketch stage, Deborah Zierten, Save the Redwood's League's Education and Interpretation Manager, generously agreed to verify the book's accuracy.
In "redwood time," everyone alive today will be gone in the blink of an eye. Like the oceans, the coast redwood canopies demonstrate Earth's enduring opportunity for exploration and provide inspiration for new generations to continue to study and preserve our irreplaceable old-growth forests. Though I am pleased to speak as both illustrator and author, I am equally excited by the chance to advocate for redwood conservation and share canopy discoveries not only with children, but with parents, grandparents, and others for whom this science still holds fascinating surprises.
Learn more about The Forest in the Trees and order your copy online.