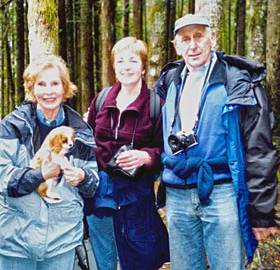 For botanist and plant ecologist Peter Comanor, the redwood forest is about receiving and giving.
He first saw a redwood tree in an exhibit at the American Museum of Natural History in New York. It was, he recalled, an interesting and informative display, but it didn't prepare him for his first visit to the redwood forest.
"Driving past those stately trees was a completely different experience," Comanor said. "Since then, I've enjoyed many long, quiet walks in the redwoods. I'm now at that point in life when I want to invest part of my modest savings toward preserving a beautiful and lasting Earth."
For that investment, Comanor arranged a charitable gift annuity to support the work of Save the Redwoods League. This strategy will accomplish two goals, he said. First, it will help protect his beloved redwoods forever from threats such as development.
"It also provides a small income that will be useful to me for the next few years," he said. Comanor has visited California's north coast many times. His devotion to the redwood forest grew with each trip, ultimately leading to his generous bequest. "I really enjoy camping in the redwoods," Comanor said. "It's especially lovely when the evening quiet settles in. When I reflect on the redwood forest, I think of its evolution, and identify with the species as representative of the striking variety of the natural world. For me, visits to the redwoods are always spiritual experiences."
Learn more about leaving a legacy gift.
---
Tags: coast redwood forest, coast redwoods, conservation, forest management, forest restoration, Peter Comanor, PG Annuity, protecting redwoods, redwood conservation, redwood parks, save the redwoods, Save the Redwoods League