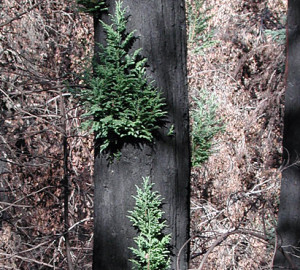 Last weekend, while I was hiking in the forests of Northern California with strong winds and thunder and lightning storms, I was reminded that we are entering fire season. While the thought of forest fires often stir fear in us as we think of the risks to homes and buildings in rural cities, redwood and giant sequoia forests love and need fires to maintain their health.
I was recently at Roy's Redwoods Open Space Preserve in Marin County. A fire swept through there in October 2014, burning four acres of redwood forest. Less than a year later, the forest is back in action generating new life, and the redwoods are leading the way. The new redwood growth was immediately apparent—bright green stems are growing out of completely blackened trunks.
Not only do redwoods have amazing fire-resistant bark, but even in circumstances where most of the bark has burned, they have the ability to re-sprout at various locations throughout their trunk. This epicormic sprouting is a common response after fire and shows the resilience of these trees.
There's so much to learn about fire and the forest! Check out these blog posts on the relationship between redwoods and fire and how other redwood forest plants respond to forest fires.
And join us this weekend as we walk through Roy's Redwoods and learn how these trees are responding to changes in climate and how citizen scientists (like you!) can help monitor these forests.