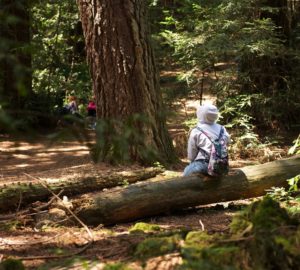 It is well known that the redwoods inspire people in many different ways. Some want to study how the trees and forest function; others hike beneath the branches for exercise, and still others paint and photograph these majestic beauties.
During our redwood field trips with students we try to appeal to all these different ways the trees elicit inspiration in our youth. So, I bring you our Redwood Haikus. Below are various haikus high schools students wrote during our Redwoods and Climate Change High School Program.
Hopefully you will be inspired to write your own haikus after visiting our amazing trees.
Redwoods love the fog
They also gather water
Leaves fall from redwoods
Redwoods are very tall
They absorb fog with needles
They take in carbon
Sunlight seeps through trees
Redwoods stand in the forest
Please save the redwoods
Some bright shades of green
Open my eyes and my mind
Pollen, pines, bushes and leaves
Redwood trees are grand
Standing tall and defiant
Push through climate change
Redwoods are the best
They soak up carbon and mist
Stumps are the perfect seats
Let's protect the trees
That reduce the CO2
We breathe from the trees
Put up a strong fight
Stand tall you will mighty tree
Redwood trees for life
Learn more about the Redwoods and Climate Change High School Program.