This day marks the 50th anniversary of the Wilderness Act. For 50 years, hundreds of thousands of people have been enjoying the most beautiful and remote areas of our nation while protecting some of the most ecologically important habitats we have. In 1964, 9.1 million acres in 13 states were protected as wilderness. Today, we have over 109 million acres of protected land in 758 areas in 44 states. California is one of the top five states for amount of acreage protected.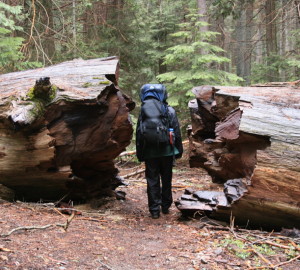 The passage of this monumental bill didn't happen overnight. Over a nine-year period, the bill was rewritten 65 times and went through 18 public hearings! Finally, in August 1964, the Senate and House of Representatives passed the Wilderness Act, and on September 3, 1964, President Lyndon B. Johnson signed the Wilderness Act into law. The United States was the first country in the world to define and protect wilderness areas through law. After our passing of the Wilderness Act, other countries followed suit.
Although over 100 million acres of land in the United States are permanently protected, that land is still only 5% of the entire U.S. — and about half of that is in Alaska.
Here in California, some of our coast redwood and giant sequoia land is protected as wilderness. The Ventana Wilderness near Big Sur as well as the many wilderness areas around Yosemite National Park and Sequoia and Kings Canyon National Parks are "…devoted to the public purposes of recreation, scenic, scientific, educational, conservation and historic use."
I recently spent my Labor Day weekend in Desolation Wilderness near Lake Tahoe. It was an inspirational and memorable three days of connecting to the land and reminding myself of the beauty we are so fortunate to have surrounding us. Between swimming in mountain lakes and gazing up at millions of stars, I took a moment to thank those before me who had the foresight to protect these amazing places where we can experience the height of nature's majesty.
You can visit the official Wilderness website for more information about wilderness areas near you. To find out more about the 50th anniversary of the Wilderness Act, explore here.